IT roles and the growth sectors that need them most
7 min read | James Milligan | Article |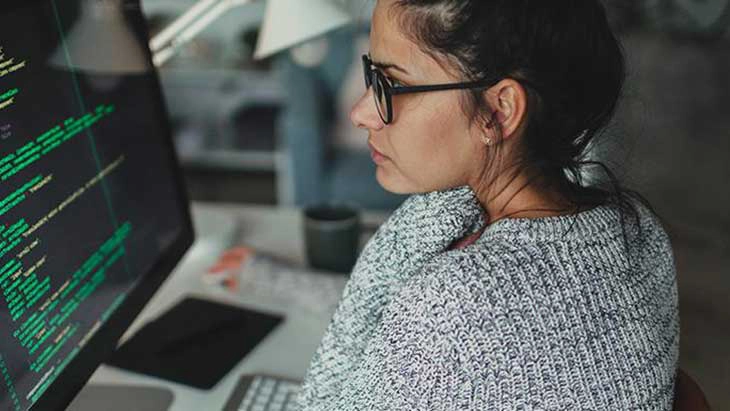 COVID-19 accelerated the need for IT staff. But which IT jobs are in demand post-pandemic? And which emerging sectors will be popular in the future?
COVID-19 had a profound impact on the vast majority of industries and, of course, the roles which function within them. This is particularly true of the tech space.
Fundamentally, the pandemic accelerated the digital transformation of most businesses. As such, IT roles have become even more integral to ensuring organisations are able to adapt in an agile and effective way throughout each stage of the crisis.
When lockdown first hit, businesses worked at breakneck speed to ensure entire workforces could work well from home. Cloud architects and engineers (across Amazon Web Services, Azure, Google Cloud and the Office 365 suite for Teams) were in the greatest demand across both contract and perm roles, as they were crucial in facilitating this change.
This was in direct response to entire industries changing overnight. But which other roles were affected?
IT roles at a glance
The need for cloud architects went far beyond mobilising workforces. VOIP (Voice Over Internet Protocol) and video conferencing apps like Zoom rose exponentially for personal and business use. This also spilled over into non-corporate settings.
Take the demand for EdTech for example, where schools and universities needed technological platforms to help them continue to educate their students during home-schooling phases. This resulted in the growth of apps like DuoLingo, Seesaw and Google Classroom, that doubled its users to 100 million in March 2019 alone.
With these rapid advancements came skills gaps, opportunities – and dangers. So, years down the line in a post-pandemic world, which IT jobs have increased in demand for good, and which may grow in the future?
Staying secure
As communication technologies and other innovations impacted personal and professional lives, cyber security professionals and the cyber security industry as a whole, saw a surge in demand. Businesses wanted to make sure their new models now in place were robust enough to deal with any new threats.
Those technologies that had seen rapid expansion wanted to protect themselves from security breaches as well – where even Zoom, as one of the greatest business success stories during lockdown, had its challenges.
With growing threats every day, cyber security will continue to be top of the desired skills list for employers.
Pivoting business models using tech during COVID-19
After the initial business needs were appeased during the first stages of the pandemic, businesses and public bodies then started thinking about how they could operate successfully under COVID-19 conditions. They needed data analysts, data scientists and machine learning experts to model the impact of the pandemic in their respective fields.
The number of roles within MedTech saw huge growth because of this. Countries developed COVID-tracking apps and began to understand the impact the pandemic may have on local hospitals or health services, for example. Private businesses, like insurance companies, also saw the need to recruit these specialists, to understand the impact COVID would have on their customers' risk profiles.
Digital expansion
Entire business models saw changes that required tech specialists too, as they further digitised services for their customers. With lockdowns forcing the closure of high streets and shops, businesses were forced to move their retail operations online. They hired developers to build applications and UI/UX specialists to either upgrade or build new digital e-commerce structures to sell from.
This meant a knock-on effect for supply chain and logistics businesses. As supermarkets and companies like Amazon and Alibaba dealt with the influx of online orders that they were now seeing, demand grew further.
The health and leisure space also saw a big adaptation. Health Tech developments enabled gyms and other leisure activities to move online and into apps. They adapted to the needs of their customers throughout lockdowns, and now offer app-based classes and booking capabilities for the reopening of these facilities.
For many industries, these advancements will never go away. Online shopping and booking are here to stay, and with them the need for designers and developers. As analytics grows, machine learning and AI specialists will be in even more demand.
Demand for technology jobs in the new era of work
Now, businesses are starting to take a more proactive look at their futures. They need the help of project managers, change management specialists and those with experience in agile methodologies to assist them with this transition.
Developers are in greater demand to build the digital applications required by their employees and customers. Examples of these are coming from traditional organisations in both the public and private sectors, who are digitising their products and services for their employees and customers.
What you need to know about IT roles
Employers are now taking the time to proactively review the actions they took during the pandemic. Many are now actively improving and enhancing their remote working systems, for example. Others are taking what they learned and applying it to future developments.
Looking forward, it's likely that a higher proportion of remote or hybrid working will be a key element of the new era of work. IT roles will lead the way.
For more information on IT career options, please contact your local consultant.
About this author
James Milligan, Global Head of Technology, Hays
James is Director of Hays IT, Digital Technology and Project Solutions in the UK, Ireland and EMEA. Having joined in 2000, he is responsible for the strategy of Hays' Project Solutions, IT and Digital Technology businesses, which includes IT contracting, permanent technology recruitment, resource augmentation and statement of work solutions across both the private and public sectors.