Six fears you may have about applying for a new job
8 min read | Tom Osborne | Article | Job searching Interview advice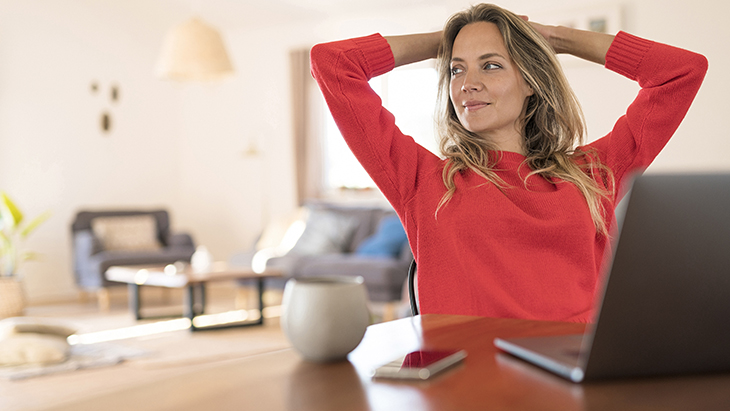 There are six common fears you may feel about applying for a new job. Read on to find out what they are, and how you can stop them holding you back from taking the next step in your career.
Fear 1: Your skills and experience aren't a 100% match
Do you feel like you aren't "good enough" for the job? And if so, why? Is it because you think that you don't fit 100% of the criteria set out in the job spec
It doesn't matter if you can't tick every part of the job specification: Yes, there may be skills which are absolutely essential to the role, and there's no escaping that. However hiring managers are often flexible when a candidate lacks a "desired" rather than a "required" criteria. Furthermore, if you can emphasise on your CV that you have the soft skills needed to pick up new concepts quickly, such as being an inquisitive and diligent fast learner, this will help your application.
Being too comfortable in a job can limit your career success: Ask yourself whether you actually want to move to a job that you could do with your eyes closed. Wouldn't you rather take on a role which challenged and upskilled you? These are the roles which can propel you to where you want to get to in your career journey.

Fear 2: You're an industry outsider
Is this industry new to you? Perhaps the job description contained some industry jargon which threw you, further confounding your worry that you're a complete outsider.
Everyone has to start somewhere: Remember, everyone has to begin somewhere – even the most renowned industry experts will have most likely started out feeling exactly the same as you do right now. Furthermore, switching industries is, in my opinion, a great career move and one you should brave from time to time. How else will you broaden your professional expertise and adaptability? What's more, how will you find out what you are truly passionate about?
Remember, as an industry outsider you bring fresh perspectives: Employers will often embrace the fresh perspective of an industry outsider, just so long as they immerse themselves in this industry and improve their knowledge on the job. As such, tweak your CV and highlight in the personal statement (more on this here) that you want to learn more about this industry and why.

Fear 3: You're worried the competition is better than you
Believing that you won't stack up against the competition is a very common fear, especially when applying via platforms where you can see how many other people have applied, such as on job boards and LinkedIn.
Don't assume anything: You may have assumed that these other applicants are all so much more qualified, and that you don't stand a chance. Well, if you are going to assume the worst, why don't you also assume the best? Maybe the hundreds of applications received were a case of quantity over quality, and that yours will be one of the few quality CVs received.
Build a more positive perception of yourself: Building your self-confidence when applying for job, is all about forming and projecting a more positive perception of yourself. If you feel hesitant in applying, give yourself a pep talk, and remind yourself of all you have achieved in your career. Write down everything you have to offer which makes you a good fit for the role. I would also advise identifying the keywords used to describe the ideal candidate on the job description, and including these keywords wherever possible on your CV. Not every candidate will think to do this, and keyword optimisation to emphasise your suitability may well set your CV apart.

Fear 4: You're scared of change
Given that this opportunity came somewhat out of the blue, the sudden prospect of leaving your comfort zone can be pretty overwhelming, not to mention daunting. You're probably remembering just how much change is involved in moving jobs; different colleagues, unfamiliar tasks and so forth. And suddenly sticking with what you know feels much safer and more sensible.
You need to take a leap of faith now and again: Safer isn't always better, and if you want to move forward in your career, you will need to take a leap of faith every now and again. 
Stop getting ahead of yourself: You are only applying for a job right now and that's it. If you start to think about all of the "what ifs" later down the line, then of course you are going to feel daunted. Take it one step at a time, but be bold and courageous each time you get a bit further along in the application process.

Fear 5: Now isn't the right time
It never is.
Why do you think the timing is wrong, and, be honest, is this just an excuse? If you think the timing is off because you're just about to get a promotion, pay rise or excellent training opportunity, then it's important to realise that these are all factors which can be negotiated with your potential new employer during the later stages of the interview process.
Or is it that you feel that your company needs you right now, and to abandon ship would be disloyal and you would risk burning bridges? Perhaps you're midway through an important project that your boss needs you to complete, or maybe your team are thin on the ground. Either way, it's natural to feel guilty about leaving at this moment in time.
Put the shoe on the other foot: How would your boss react if they found their perfect job opportunity? If they're focused on their own career goals, as we all should be, then they probably wouldn't think twice about going for it – there's nothing to lose.
Your notice period is there for a reason: It's a period of time to allow for your work to be handed over and your successor can be found. There's nothing for you to feel guilty about.
When it comes to your career progression, you have to put your own needs first, even if it does feel selfish.
Considering the next step in your career? Get in contact with one of our expert recruitment consultants for a confidential chat about the career options available to you. Alternatively, check out our latest career advice.
About this author
Tom Osborne, Managing Director Of Hays Malaysia
Tom Osborne is Managing Director of Hays in Malaysia and has over 13 years of recruitment experience. During this time he has recruited predominantly in senior finance while also managing sizeable recruitment teams across the UK, Singapore and Malaysia.

During his time with Hays in the UK, Tom successfully managed a regional senior finance team across multiple offices in the east of England. He then relocated to Asia, initially to Singapore where he was part of the senior management team that set up and developed Hays in Malaysia. He then moved to Kuala Lumpur and established himself as a reputable recruiter in senior finance.

Tom now manages Hays' Malaysia operations and a team of specialist consultants covering 12 areas of expertise, including accountancy & finance, banking & financial services, engineering, legal, life sciences, human resources, marketing, procurement, supply chain, sales and technology.