"Why do you want this job?" – The best way to answer this question
7 min read | Marc Burrage | Article | Interview advice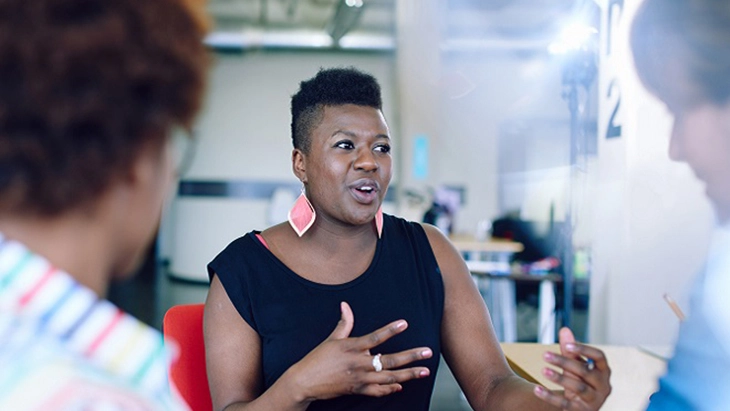 If you have an interview coming up, get ready to be asked why you want the job. Follow our expert advice to turn this potential pitfall into an opportunity to shine.
One of the most common interview questions, "Why do you want this job?", is also one of the easiest questions to mess up. What sounds like a simple question leaves plenty of space to go wrong. Too many candidates offer easy, generic answers, such as "a new challenge" or "because you seem like a good company to work for". Candidates like this often won't make the interview shortlist.
Hiring new people takes time and money. Your answer needs to reassure the interviewer that you are worth both, that you will stand out as an engaged and passionate hire who will do great things for the company. That may sound like a big ask, but with the right structure and approach you can turn the question, "why do you want this job?" into your chance to shine.
The "why do you want this job" question at a glance
Experienced interviewers are not going to be impressed by answers they've heard dozens of times before. Generic answers don't tell them what they really want to know – which is why you are specifically interested in this job at this company.
To use this question to your full advantage you need to demonstrate your passion for the company, the role and your own future development. If you cover these three bases, in a clear, structured way, you stand a much better chance at walking away with the role.
If you're looking for your next job interview, get in contact with a Hays recruitment consultant to discuss the career options available to you.
Show your passion for the company
People with pride and passion for their company are typically high performers. They have the motivation to go above and beyond to achieve success, both for themselves, their team, and the wider business. It's very important to convey this genuine enthusiasm at the interview.
Maybe you have a long-standing interest in the brand, or perhaps you came across it for the first time when scouting for new opportunities. Either way, it's vital that you communicate your specific thoughts about the company when answering the question. Talk about how the company's purpose and values align with your own. Detail which products and services particularly excite you, or stress how impressed you are by their recent awards, accolades or results.
Emphasis your excitement for the role
The interviewer is also using the question to check your motivation. Employers want to know not only that you would be good at the job, but that you would actually enjoy doing it. Professionals who enjoy their role are more loyal and more effective. So, when answering the question of "why do you want this job," make sure to talk about your excitement for the opportunity. Talk about your reaction when finding the job advertisement. How do you feel it meets your specific skills and ambitions? In short, why are you the person who would be most enthusiastic about being given the job?
Explain how this opportunity would allow you to progress
It's important to remember that the interviewer will be looking to recruit someone who can provide value now, but also in the long-term. A good forward-looking candidate is someone with ambition, drive, and a commitment to self-improvement.
When answering the question, convey clearly that you want to grow in the role. Discuss how you think certain aspects of the job would promote your development. Be detailed and specific. Follow up with an outline or plan for how you would like to progress your career at this particular company.
Show your appreciation
Conclude by reiterating that you are pleased to have been invited to interview. Finishing off your answer like this is a chance to quickly sum-up and showcase your suitability for the role
An example of the perfect answer
Here is a strong answer to the question of "why do you want this job?" In this example a marketing executive is interviewing for a role in the cyber security industry:
"Cyber security is such an important, ever growing and ever changing industry. It's an industry I've grown to be very passionate about over the years, and during this time, I have paid close attention to [company X] as a pioneering market leader. I know that you provide robust, pre-emptive solutions and I read your industry commentary regularly. Needless to say I was very excited when I saw you were hiring.
When I initially read the job description for the role, one of the things that particularly appealed to me was that it has a strong social media focus, which is perfectly suited to my strengths. Whilst social media marketing is my strongest skill, I am aware that as a profession it is always evolving and I will need to continuously develop my expertise. Working for a forward thinking market leader such as [company X], with a sophisticated social media strategy, will allow me to learn from experts. It will be a great chance to progress to my full potential using the learning and career opportunities available.
So, to sum-up, this role and company is well suited to my interests, skillset and ambitions, and I am delighted to be interviewing for this opportunity."
What you need to remember about the "why do you want this job?" question.
An answer which includes all of the elements listed above will be music to the interviewer's ears. Remember, in all likelihood they will hear the same generic answers from candidates time and time again. If you can take a more personal, considered approach, you will set yourself apart from the rest as clearly the best person for the job.

About this author
Marc Burrage is the Regional Managing Director for Hays Asia in 2022.
Marc joined Hays in 2012 and was asked to head up the Hays Talent Solutions business in Asia, before being appointed Managing Director for Hays Japan in 2015. In this role, he was responsible for the day-to-day operations and growth of the Japanese business across all specialisms, supplying permanent, executive search, temporary, contract and onsite solutions. In September 2019, he was appointed Managing Director of Hays Poland.
Marc has broad industry and functional expertise, with a proven track record of continued success and has led and grown businesses in the UK, Australia, New Zealand and Asia. Prior to working in the recruitment industry Marc held various sales and marketing management positions in the automotive industry. He was a board member for the Leadership Institute of New Zealand and studied strategy at Ashridge International Business School.