Breaking the burnout cycle: what's the solution?
8 min read | Maureen Lynch | Article | Workplace Wellbeing Work-life balance People & Culture Flexible & hybrid working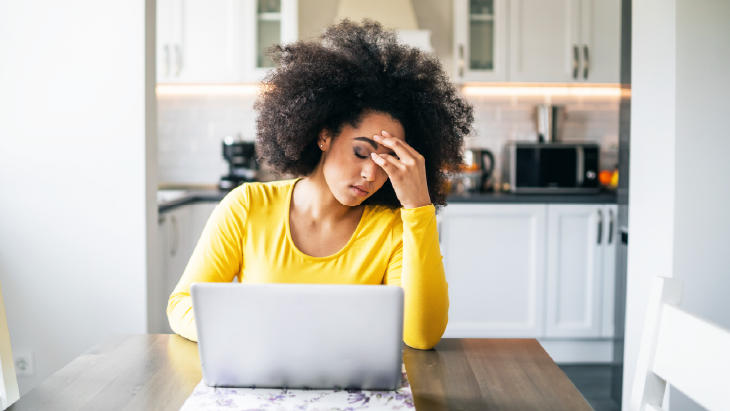 Chronic stress, cynicism and exhaustion – these syndromes are prevalent among the workforce, and there's no sign of them abating in a post-pandemic world.
Ireland ranks among the worst in Europe for employee burnout, according to 2022 research by Gallup and Workhuman, studying over 12,000 employees across 12 countries. To change this narrative, employers need to take a look at their company culture and the demands placed on their employees.
According to a report by McKinsey, 47% of surveyed workers feel that a lack of clear vision about work in the post-pandemic world is a cause for concern or anxiety.
Our four-day working week survey revealed that 89% of professionals believe it could have a positive impact on employee mental health and well-being.
Over half (53%) of the professionals we surveyed in our What Workers Want 2023: Different Ways of Working report said they would find it useful if their employer encouraged no meetings during lunch or set hours.

Could you spot workplace burnout?
Workplace burnout is a type of physical and emotional exhaustion typically caused by heavy workloads, prolonged hours, lack of support and recognition, and a general absence of a work-life balance. Common burnout symptoms in employees include a lack of engagement, an increase in errors, and generally negative behaviour.
On an organisational level, burnout can be highly disruptive. Drops in productivity, increased absences, and high turnover can be detrimental to an organisation's growth and reputation. However, the human consequences can be far more severe; research from 2021 indicated that three-quarters of a million people globally are dying from ischaemic heart disease and stroke each year, attributed to working long hours.
Notably, workplace burnout isn't relegated to frontline public sectors, such as healthcare and education – it's a trend seen across practically every industry. But what's causing such high levels of burnout?
It's been well documented that burnout increased during the Covid-19 pandemic, and it may be possible that we're experiencing a hangover from these effects, with current economic conditions doing nothing to alleviate the strain. Feelings of being overwhelmed at work are backdropped by an ongoing cost of living crisis, exacerbating workplace stress and career anxiety.

Is remote working a cure or curse?
Working from home is a boon for some, but places others at a greater risk of burnout. Although hybrid and remote working practices grant employees greater flexibility and autonomy, there is evidence that these models could come with a cost. Some research suggests that remote working can cause employees to work longer hours while facing increased workloads. Moreover, our What Workers Want 2023 report revealed that 45% of workers don't have the option to work their own hours, possibly detracting from the lifestyle benefits that home-working offers.
Uncertainty regarding future work models could also lead to unnecessary stress. According to a report by McKinsey, 47% of surveyed workers feel that a lack of clear vision about work in the post-pandemic world is a cause for concern or anxiety, with the report showing a correlation between ambiguity and burnout. Whatever workplace model an organisation chooses, having a clearly communicated vision is therefore vital.

Is the four-day working week a solution?
According to our four-day working week survey, 95% of respondents believe the shorter week is a good idea, with 89% believing it could have a positive impact on employee mental health and well-being. For parents, who may be especially prone to workplace burnout – juggling multiple responsibilities amid sharp rises in childcare costs – a shortened working week could be particularly beneficial.
However, the reality of a four-day workweek may be more complicated: only 4% of the organisations we surveyed say they have implemented one. Of the companies who said they were neither trialling a four-day working week or considering it, over half (51%) are worried about the impact on productivity, while one in five employers (20%) are concerned over increased pressure on staff.
More research is needed to understand the wellbeing benefits and viability of a four-day work week, but it's becoming increasingly clear that workplace trends and cultures have evolved – recognising this may be key to your employees' health and productivity.

What actionable strategies can organisations take?
Traditionally, the onus of dealing with workforce burnout has rested with the employee, but this hands-off approach may require a rethink. It's vital that organisations are fostering a working environment that doesn't compound existing pressures, while offering the right balance of intervention and flexibility.
Some recommendations include:
Consider flexible working practices: Offering flexible working patterns will give more of your employees the chance to achieve a better work-life balance – and quite possibly improve your status as a desirable employer. As highlighted though, it's important to remember that remote working and shorter work weeks may not be a cure-all for burnout.

Establish clear expectations: No matter their role or seniority, all employees should be given clear and manageable expectations regarding their workload and responsibilities – both at home and in the office. Setting a limit on meeting times is a good starting point. Over half (53%) of professionals from our What Workers Want 2023 report said they would find it useful if their employer encouraged no meetings during lunch or set hours, while 41% said it would be useful to have a mandated time limit.

Enhance communication and collaboration: Actively encourage open dialogue throughout your organisation, giving employees a platform to express their challenges and concerns – including those relating to workplace models. Better yet, foster a collaborative network that shares knowledge, reduces individual burden, recognises achievement, and cultivates a sense of camaraderie.

Embed employee wellbeing and support: While business leaders and managers only have so much control over their employees' lifestyle habits, it's important to help them help themselves. Provide training and resources geared towards managing stress and developing effective coping strategies, and give your staff the space to disconnect from work when needed.
Burnout isn't going to simply disappear. It may be that the pandemic has institutionalised burnout on a global scale, with wider economic concerns compounding the burden felt across society at large. But, organisations should strive to create a working environment that is understanding of different workers' needs and places their health and wellbeing before the bottom line.
To help look after your workforce and provide them with the support they need, consider our Thrive online training platform.
And to discover more insights and recommendations about different ways of working, get our What Workers Want 2023 report here.
About this author
Maureen Lynch - Director at Hays