Recruitment Process Outsourcing: 3 Frequently Asked Questions
8 min read | Enterprise Solutions at Hays    | Article | Retention Staff engagement Employer branding Permanent hiring Salary benchmarking Talent management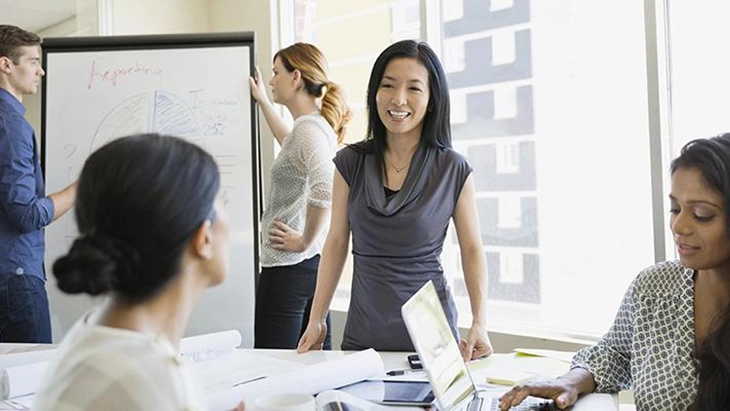 Whether you're pursuing improved efficiency or trying to accelerate transformation, people are at the heart of your success.
But attracting, sourcing, managing and retaining the talent that will enable you to get work done better is not as straightforward as it may seem. In response, many future-focused organisations are opting to outsource the recruitment of permanent staff, putting their trust in a strategic workforce partner to help them build a more holistic talent function.
If you're considering a Recruitment Process Outsourcing (RPO) solution but unsure where to start, then you've come to the right place.
In our latest blog, we're tackling three of the most common questions our teams face when it comes to our Recruitment Process Outsourcing – and how this solution can help you to build a workforce strategy that empowers your business to succeed.
Going back to basics: What is Recruitment Process Outsourcing?
You have a clear vision for the future.
But tight labour markets, evolving skillsets and employee attrition are creating talent shortages across all geographies, industries and job roles.
You need progressive talent strategies and mechanisms to ensure you have the right people in place to achieve your ambitions. A Recruitment Process Outsourcing solution offers organisations access to a wealth of expert recruitment capability.
With the option to outsource part, or all of, the activities associated with permanent recruitment, specialist partners can cover the management of candidates from multiple channels, oversee key stages of the recruitment lifecycle (including selection, onboarding, engagement and exit) and refine crucial aspects of your strategy such as Employer Branding and Employee Engagement.
What are the benefits of Recruitment Process Outsourcing?
Find the right fit: Skills and experience are important. But to build your future-ready workforce, you require innovators, advocates for change and the leaders of tomorrow. With top talent in short supply, you'll need to think not just outside of the box, but beyond it.
A strategic workforce partner can unlock access to ready-made talent pools brimming with quality, dramatically reducing the time-to-hire. With optimised and diverse attraction, sourcing and selection processes in place, your provider has done the legwork for you, searching for the skills that will support your strategic goals.
A cut above: You need talented people to help you realise your ambitions. But so do your competitors.
In a talent scarce market, relying solely on remuneration rates will likely mean missing out on the people you need to power your progress.
You need an acquisition strategy that will set you apart from the crowd. A leading Recruitment Process Outsourcing provider will partner with you to enhance the candidate experience from end-to-end, analysing and optimising your branding, technology and ways of working to ensure you're the employer of choice.
Investing today, retaining tomorrow: As resignation rates soar, the investment you make in your existing employees could become your greatest return.
But with research indicating that 61% of individuals already have 'one foot out the door', you'll need to do more to keep top talent committed to your ambitions and purpose.
A leading Recruitment Process Outsourcing solutions partner can combine a deep understanding of the market with a wealth of real-time data to create a value proposition that enriches the careers of people in your organisation.
Here at Hays, for example, the scale of our knowledge across the globe enables us to create contemporary Salary Benchmarking guides, ensuring you engage the most appropriate candidates at a competitive price.
Delivering today, planning for tomorrow: The world of work doesn't stop evolving, so neither can you.
You'll need to continually engage, onboard and nurture individuals to ensure you have a future-focused talent function in place to tackle the complex world of work.
Appealing to the interns, apprentices and graduates that will transform your organisation requires an elevated employer value proposition that showcases your company culture and champions your commitment to Diversity, Equity and Inclusion, or a purpose that goes beyond profit.
A Recruitment Process Outsourcing provider will work with you to get the best from your brand. With an understanding of changing candidate skills, needs and motivators informed by real-time market data and emerging trends, they'll connect you with the people who are best suited to your company culture.
Recruitment Process Outsourcing: Right or wrong for my business?
You have big ambitions and a clear direction for the future of your organisation.
But your ability to attract, engage, onboard and retain talent has a direct impact on the success of your organisation. If you can't scale, you won't survive.
In an era of changing circumstances and shifting priorities, you need an agile workforce strategy, delivered by an expert solutions partner with an understanding of emerging talent pools and in-demand skills profiles to guide you to the right location to source the right people, at the right time for your organisation.
By outsourcing the recruitment of permanent talent to a dedicated workforce solutions partner, you'll be best placed to secure the skills you require today, ready to conquer the challenges you'll face tomorrow.
Talk to us about your talent strategy
If you're considering a Recruitment Process Outsourcing solution to enhance your talent strategy, we can help you take the next step in your journey.
Head to our dedicated webpage for further information, read more from of our Market Insights or get in touch with one of the experts at Enterprise Solutions today.
About this author
Enterprise Solutions at Hays   
At Hays, we invest in lifelong partnerships that empower people and businesses to succeed.     We're a future-focused, customer-centric organisation equipped with the skills, solutions and technological capabilities of a true leadership partner, to better meet your workforce needs and solve the complex challenges you face today, tomorrow and in the future.     
Strategically located delivery centres and 250+ offices across the globe, offering the flexibility and diversity of people that will be central to your success.   
Thousands of experts equipped with the insights and understanding to stay a step ahead of market trends and solve your business challenges.    
Over 50 years of building progressive workforce strategies to support your strategic goals.   
We're always learning, always one step ahead, and always working for your tomorrow.