Action over words: how your organisation can embrace Black History Month
7 min read | Jason Dunwell | Article | Corporate Social Responsibility Diversity, Equity & Inclusion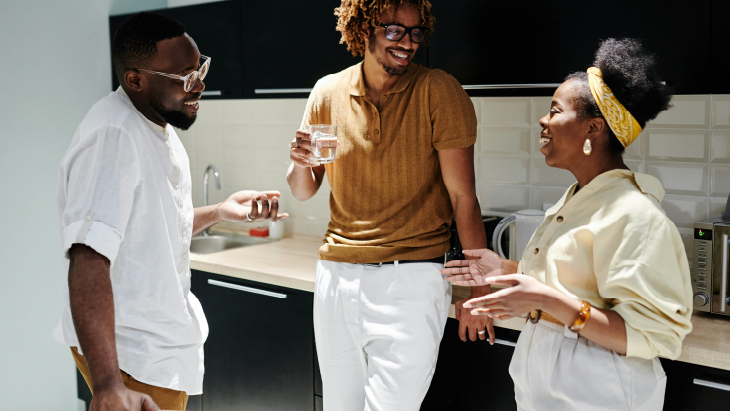 Learn how to embrace Black History Month from Jason Dunwell, service delivery director and global D&I council member at Hays.
How your organisation can embrace Black History Month: key insights
Whether you're a manager or an employee, here are some ways you can promote a working environment that not only recognises and supports Black history and culture throughout October, but every month of the year.
In this blog you'll learn more about how to achieve the following within your organisation:
Reflect on the past to educate for the future
Consolidate diversity, equity, and inclusion (DE&I) strategies
Share and celebrate Black voices
For more information, please refer to the Hays Equity, Diversity and Inclusion Report.
Diversity, equity and inclusion (DE&I) background
This year's theme for Black History Month 2022, 'Time for Change: Action Not Words', encapsulates the idea that, to ensure real progress, a more proactive stance needs to be taken. Following the murder of George Floyd and the ensuing Black Lives Matter protests of 2020, organisations and individuals alike have made a greater commitment to DE&I, yet there's still much more to be done to combat racism, inequity and to improve awareness.
For your organisation we offer a range of bespoke DE&I products and services designed to support your commitments.
Reflect on the past to educate for the future
Black History Month is a time to explore Black history and heritage, in turn creating a deeper understanding of Black people's experience and sense of identity. In the UK and Ireland this has traditionally meant confronting the impact and legacy of colonialism and slavery, while also highlighting the too-often unheralded contributions of Black figures.
However, there are far more recent activities and decisions that we should be reflecting on in order to be better in the future, such as the failings shown from the Windrush Scandal, organisations staying silent on issues that impact Black people or our emotional response to heinous world events and how it differs by country or race. Empowering your employees with a deeper understanding of recent history and events means your organisation can reflect, decide how to be better, then actively be better.
So, how does this help you to be actively better? You will be enabling individuals to be effective active allies as their understanding and empathy of the recent issues or challenges will be greater. In practice, this education could take the shape of in-house webinars and resource packs, along with a dedicated internal communications campaign.
Going forward though, employees should be encouraged to take ownership over gaps in their own knowledge and have the confidence to address exclusion or prejudice – both in the workplace and outside of it.
Consolidate DE&I strategies
While reflection is a significant part of Black History Month, organisations must act upon these lessons in meaningful ways. Although many organisations observe Black History Month, they should consider to what extent this truly reflects their commitment towards DE&I practices and whether their Black employees agree.
Our Hays Equity, Diversity & Inclusion Report revealed that while 70% of professionals say their employer actively talks about the importance of DE&I, only 57% believe their employers are combining discussion with noticeable action.
Considering this year's Black History Month theme is 'Action Not Words', it is especially timely that organisations reinforce their DE&I pledges with actionable strategies. From enshrining diversity-driven policy to identifying gaps within your workforce, progress will come from collaboration at all levels of an organisation.
That is why we've recently created our internal Black Network as a way to amplify the voices of our Black talent, increase representation in offices, educate colleagues on Black culture, and challenge any perceived barriers to progression. We have also partnered with the Black Young Professionals (BYP) Network to help uphold our responsibility for developing and empowering the Black community, creating more opportunities for talented professionals.
Personally, for me it is about being active throughout the year, not just during Black History Month.
Share and celebrate Black voices
During Black History Month, consider setting up a platform where Black voices within your organisation can be shared, such as an official network, a series of blog posts or featured podcasts. Doing so not only increases awareness of an organisation's diversity, but helps engender an environment where employees are encouraged to celebrate their identity, and ultimately feel valued.
Additionally, organisations may wish to invite guest speakers – from activists to authors – who can offer meaningful insights into Black history and culture and showcase the success of Black people in wider society.
Organisations of all sizes have a responsibility to ensure their working environment is one built on respect, and is an inclusive space where employees feel appreciated, supported and connected. Rather than it being the sole responsibility of those who have experienced exclusion or prejudice, a wider level of accountability and collaboration should be embedded across an entire organisation.
Black History Month should be seen as more than just a monthly prompt, but instead a reminder that DE&I values are a constant standard to uphold. With this mindset, Black culture and history can become a closer part of an organisation's fabric.
What will you stop, start, or continue as a result of this year's Black History Month?
Action over words: what's next for your organisation?
Discover further recommendations or insights about embracing and supporting a diverse environment in our Hays Equity, Diversity and Inclusion Report.
About this author
Jason Dunwell, Head of Solutions And Advisory, Co-Chair of the Black Network
Jason Dunwell, service delivery director and global D&I council member at Hays is accountable for the successful delivery and relationship management across a portfolio of talent solutions, leading the strategy and operations.
Jason is also a member of the UK&I Diversity and Inclusion Steering Committee and is a Global D&I Council Member, passionate about helping clients reach their diversity and inclusion goals.
Contact Jason today to find out more about how he can provide expert advice on incorporating DE&I values into your organisation's culture.