How will the Metaverse shape your workforce strategy?
10 min read | Enterprise Solutions at Hays    | Article | Learning & Development Technology Workforce planning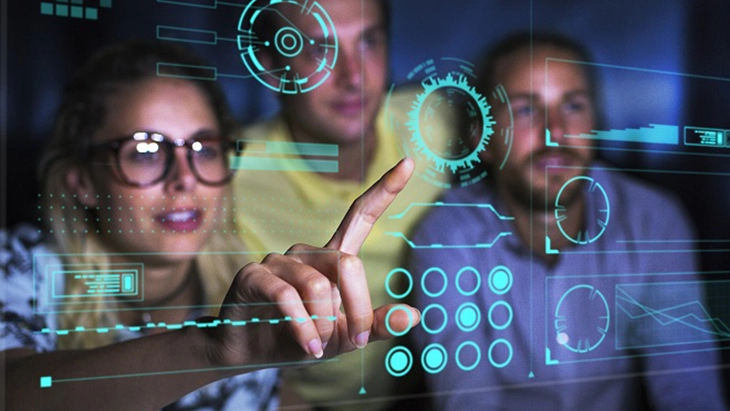 The Metaverse is taking shape.
By the end of May 2022, investment into the metaverse space was more than double what it was in all of 2021, with more than $120 billion pumped into platforms.
It is a digital development that is certainly exciting investors and organisations alike – and for good reason. McKinsey predicts that the metaverse could generate up to $5 trillion in potential economic value by 2030, equivalent to today's third-largest economy (Japan).
So what does this immersive universe mean for your workforce strategy? Below, we examine the impact of the metaverse on your organisations greatest asset of all – its people.
Defining the Metaverse
While definitions vary (and some oppose agreeing on a singular definition for fear that it will limit the scope of possibility), the metaverse is generally understood to be a network of 3D virtual worlds 'where people can interact, do business and forge social connections' through virtual avatars.
While the finer details of this immersive universe may still be up for debate, the potential value it offers - to companies across all industries - is not. Research indicates that by the close of the decade, 80% of commerce could be impacted by acts undertaken in the metaverse, such as discovering a brand or visiting a virtual store.
Those organisations that opt to 'get onboard' early are likely to reap the biggest rewards, and many are eager to do so; 95% of senior executives expect the metaverse to have a positive impact on their industry within the next decade, and 61% of those surveyed expect it to prompt at least a 'moderate' change in the way their industry operates.
Like many leading businesses, Hays has recognised the scope of opportunity and recently made headlines as the first recruiter to enter the metaverse.
But careful consideration is also required. While the metaverse presents seemingly infinite opportunities for organisations, its development could also see some societal cracks deepen and harmful practices such as disinformation, cyberbullying and scamming simply shift into another reality.
The good news? Like so many advancements witnessed over the last decade, including social media, 'bots' and Artificial Intelligence, we see similar techniques emerge for embedding technology into your workforce strategy.
Below, we've outlined three key considerations for organisations planning to make their mark in the metaverse.
People
Attracting the best: Top talent want to work for companies who are at the cutting-edge of research and development. In response, many organisations are opting to set up shop in the metaverse to showcase their technological capabilities. Electronics giant Samsung, for example, recently hosted a recruitment fair based in the metaverse.
But when it comes to talent attraction, the metaverse offers much more than simply being on show.
An immersive universe that can be accessed from anywhere (with access to appropriate hardware) allows organisations to source from a global network of skills. Amid a tight talent market, removing the restrictive radius of the company office and tapping into emerging or alternative economies could help to stem the shortage.
It is also hoped that the metaverse will support organisations in sourcing more diverse talent. The highly interactive nature of the space is thought to appeal to neurodiverse candidates, such as individuals with autism, as avatars allow people to respond to visual cues.
Those who suffer from conditions such as social anxiety could also benefit, as the metaverse creates 'realistic but safe' spaces to practice presentation delivery and networking.
During the interview process, the metaverse has the functionality to simulate live working environments, allowing both candidate and client to test suitability for the role and facilitating a faster time-to-hire.
Retaining the right people:  With over half of workers indicating that they would prefer to work from home at least 'some of the time', the metaverse can help bridge the gap between remote and the office in a way that works for all. Being 'present' via an avatar enables the corridor conversations and moments of incidental engagement to be injected back into the workplace.
And with the metaverse promising to dramatically alter the provision of healthcare, forward-thinking organisations could incorporate a greater range of health and wellbeing measures to support their staff, regardless of where they are based.
How companies then communicate this as part of a holistic Employer Value Proposition could prove to be a source of much needed competitive advantage in a tight talent market.
Purpose
Sticking with sustainability: Investing in the metaverse may require organisations to review and realign their ethos towards the environment.
According to the United Nations, over 1200 companies have put in place science-based targets in line with achieving Net Zero status. But a recent study estimates that training just one AI model could generate over 600,000 pounds of carbon dioxide, more than five times the amount emitted by the average car over its entire lifetime.
Organisations will need to consider how they balance digital ambitions with their current commitment to the planet.
Taking care of contractors:  While technology will always raise important questions around ethics and compliance, the uncertainty surrounding the scope of the metaverse adds an additional layer of complexity. With individuals fully immersed in the platform, it is not simply data that must be protected.
Cases of harassment and bullying have already been reported in the virtual world, with Meta's 'Horizon Worlds' facing claims that a user was sexually assaulted while in the metaverse. Companies will need to ensure that they have appropriate regulations in place to protect workers as they interact in a largely unregulated space.
This may require companies to onboard or outsource additional talent who are responsible for implementing and overseeing the safe transition of workers into the virtual workforce.
Process
Undergoing change: Integrating the metaverse into operations will require a huge volume of organisational change and likely prompt the creation of a 'vast swathe of new roles.'
The challenge for organisations, with very little insight into the skills that will be necessary, will be building a workforce that enables their company to thrive in a virtual world. Although sourcing and selecting permanent talent could plug the skills gap, demand for tech talent is far outstripping supply.
Companies will need to be more creative in their approach, complimenting their commitment to 'elevating' capacity by 'enabling' their current workforce.
And just as the metaverse is creating skills shortages, it could also be a useful tool in helping to bridge the gap. AI could be implemented across the scope of the learning journey, from one-to-one coaching to 'nudges' that reinforce positive behaviours. Realistic simulations will also ensure that a greater range of learning styles are catered for, encouraging employees to take measured risks and share key learns within the safety of an alternative universe.
Are you ready for a move to the metaverse?
As with many digitally driven advancements, it is difficult to determine the exact scale and scope of change.
History, however, offers an indication of what lies ahead. Just as the internet and social media transformed the way in which organisations operate, the metaverse will prompt seismic shifts in how work gets done.
Leaders will need to navigate these changes at pace, adjust regulation and rethink their people strategy to ensure they are best placed to leverage the benefits of a virtual world within their business.
To discuss how we can help you to craft a workforce strategy ready for the future, speak to one of the team at Hays, today.
About this author
Enterprise Solutions at Hays   
At Hays, we invest in lifelong partnerships that empower people and businesses to succeed.  We're a future-focused, customer-centric organisation equipped with the skills, solutions and technological capabilities of a true leadership partner, to better meet your workforce needs and solve the complex challenges you face today, tomorrow and in the future.    
Strategically located delivery centres and 250+ offices across the globe, offering the flexibility and diversity of people that will be central to your success.   
Thousands of experts equipped with the insights and understanding to stay a step ahead of market trends and solve your business challenges.    
Over 50 years of building progressive workforce strategies to support your strategic goals.   
We're always learning, always one step ahead, and always working for your tomorrow.