Doing more with less: green benefits of a four-day workweek
7 min read | Ferdia White | Article | Workplace Flexible & hybrid working Job searching Salary & pay People & Culture Recruiting Salary & pay Workforce planning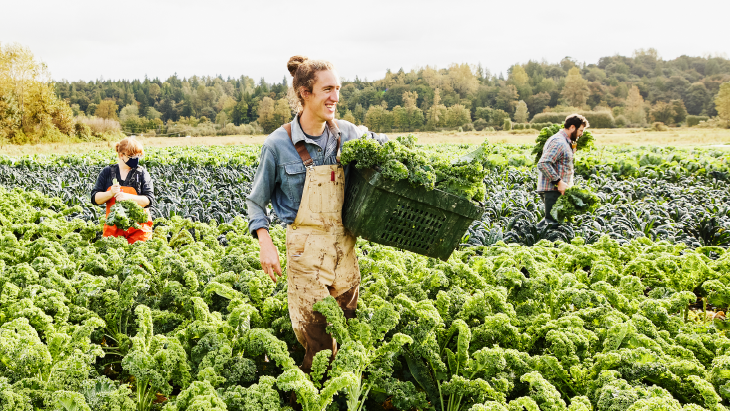 Trials for a four-day working week have seen largely positive results across the globe, and the workplace model continues to gather momentum. The perceived benefits include improved productivity and greater employee wellbeing – but could a shorter workweek also lengthen the life of our planet?
According to our survey on the four-day working week, 28% of professionals believe one day less in the office could have a beneficial impact on the environment.
One in five workers (21%) said they would use their free day to volunteer.
The vast majority of respondents (95%) believe the four-day working week is a good idea, but only 3% of organisations say they have implemented one.

A reduced carbon footprint
According to our four-day working week survey, featuring the views of nearly a thousand respondents, 28% believe that one day less in the office could have a positive impact on the environment and our carbon footprint. It's also an opinion shared by some prominent academics: Juliet Schor, an economist and sociologist at Boston College, and lead researcher at 4 Day Week Global, argues that a shorter workweek is key to achieving carbon emission reductions.
One of the most significant green benefits of a shortened workweek is the reduced time spent commuting. Drawing on data from the UK trial, one study recorded a 10% decrease over the pilot period for the companies that tracked their commuting time, while Schor claims this figure could be as high as 15-20%.

Scope for environmental volunteering
A four-day working week could help reduce 'time poverty' from a long-hours work culture, potentially enabling individuals to make better decisions and life choices. Some studies even suggest that a shift to a shorter workweek encourages pro-environmental behaviours, such as household recycling, buying eco-friendly products, and walking and cycling over driving.
Plus, according to our survey, one in five professionals (21%) would use the time to volunteer. There's already an appetite for workers to get involved in civic initiatives, and it's feasible that a shortened workweek could encourage more people to reconnect with nature and get involved with environmental projects.
To help facilitate green volunteering, organisations could consider setting up a platform or network that puts their workers in touch with suitable opportunities. At Hays, we've partnered with Neighbourly to connect our people with charities and civic causes across Ireland, which includes helping create greener spaces that benefit the communities in which we live and work.

Still a complicated picture
Despite the encouraging research, the reality of a four-day week's green benefits could be more complex. While countries around the world have implemented trials, there's currently not enough data to fully capture the extent of the proposed climate benefits, plus the different variables at play make benchmarking carbon emissions difficult. Moreover, some argue that the green advantages are heavily influenced by the way people spend their time off: three-day weekend splurges on carbon-intensive goods and services wouldn't quite be the environmental solution promised.
It's also important to remember that the four-day week is far from an established practice. Although the vast majority of our survey's respondents (95%) believe the concept is a good idea, only 4% of organisations have so far implemented the model. For many, the change to entrenched routines –and the long-term planning required – may be too great an obstacle. Of the companies we surveyed who said they were neither trialling a four-day working week or considering it, almost half (47%) said this was because they are not prepared from an operational perspective, while a fifth (20%) were concerned the change could increase pressure on staff.
So far, climate concerns may have not been the largest driver for implementing a four-day work week, but the potential green benefits are an opportunity that shouldn't be overlooked. If adoption continues to grow, and more workers find themselves with a new-found free day, how people choose to use that time could define the four-day week's environmental value.
For more insights into the world of work, check out our Ireland Salary & Recruiting Trends 2023 guide for key stats and market intel on salary increases, skills shortages, hybrid working and more.
About this author
Ferdia White - Senior Business Director at Hays