How to give feedback at work
6 min read | Mike Jenner, Will Harvey and Alison Hogan | Article | Leadership Managing a team Staff engagement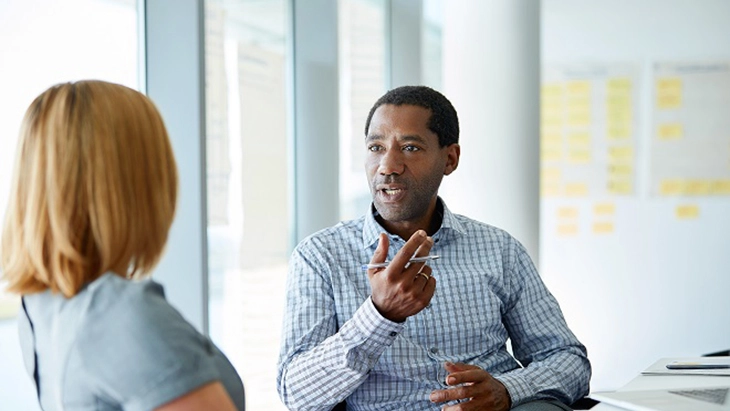 Discover how to give feedback in the workplace with these helpful examples. Our colleagues from the University of Exeter Business school will teach you to categorise your feedback and make it constructive for everyone.
Feedback in the workplace: Key insights
Giving and receiving workplace feedback speeds your development and that of those around you. It also builds trust in all workplace relationships, making you more influential with others (whether they are across the C-suite or around the dinner table).
In this article, we will look at:
The importance of giving and receiving feedback
How to structure your workplace feedback
Work feedback examples
Maintaining strong relationships.
Discover how to practise feedback and how to receive it in a professional manner.
Why is feedback so important?
Giving feedback is a form of influencing. To be effective, workplace feedback needs to be heard – whether you're giving or receiving. The difference is that when you are receiving feedback, you control whether the listening happens. When you're giving feedback, you don't.
Your feedback needs to be influential – otherwise, people will not listen to it. As such, it needs to be as easy to hear as possible. Using the combined talents of the University of Exeter's Mike Jenner, Will Harvey and Alison Hogan, we've come up with work feedback examples to help you improve.
10 principles of best practice work feedback examples
It's regular, frequent and ongoing
Do it all the time, with everybody, about everything;
It's sincere and honest
Your reputation depends on you being straight with people;
It includes an example
Citing a specific behaviour allows the listener to place your feedback in context, making it easier to address;
It describes the benefits or consequences of the behaviour Hearing the impact helps the listener understand why they're getting the feedback;
It's timely
Make sure to share your feedback as close to the event as practical;
It's owned
Make sure it's clear your feedback is from you. Steer clear of, 'the organisation wants you to know';
It's concise
There's frequently an inverse relationship between number of words used and impact. Be impactful.
The above seven principles apply to all feedback. The last three apply to developmental feedback specifically.
It's future oriented
Ask for what you want to see in the future, not what you've seen in the past. Offer constructive criticism like: "For your next presentation, it would be great to see you focus on the strategy, rather than the detailed statistics to keep the attention of the audience right until the end";
It's not judgemental
Make sure to describe the behaviour you observed, not the person. Notice the difference between: "You didn't take the trash out today, like we had agreed" and "Look at the trash. You are so lazy";
It is shared in private
Avoid damaging either the recipient's self-image and/or the strength of your relationship with them. Conduct development conversations in private.
The Performance Management Model
A useful way to think about identifying which feedback would be most helpful is to use the Performance Management Model: Using this model, feedback can be segmented into three broad categories that correspond with three levels of performance: excellent, acceptable and unacceptable.
Types of feedback at work
1. Recognition feedback Recognition feedback is your most important motivational tool. You give recognition feedback when you want people to continue their excellent behaviour. It helps by:
Promoting excellence
Improving motivation and morale
Developing your relationships and increasing trust, which builds your ability to influence.
Catching people doing things right and acknowledging this is the mark of a great leader. Our biggest feedback giving tip for you is to become excellent at noticing excellence!
2. Improvement feedback
Improvement feedback is your most important development tool. You give improvement feedback to acceptable behaviour in order to improve future performance. The critical distinction here is that improvement feedback improves acceptable behaviour. Acceptable means there are good things and less good things in the performance. Make sure you share both what was most effective about the performance, as well as what could be improved.
3. Confronting
Confronting is your most important expectation setting tool. You confront to manage complaints at work, stop the unacceptable behaviour and reset expectations. The past is in the past. Keep clear that the purpose of a confronting conversation is not to extract an apology but to ensure everyone understands your organisation's standards.
An important distinction about confronting is that the more you put off engaging in any needed confronting conversation, the more likely it is you'll find yourself faced with other situations where you also need to confront. Engage in these situations respectfully to reduce the number of future confrontations.
The words 'performance' and 'behaviour' can be used interchangeably here. Performance is the term normally used in a work context, where behaviour is more often used at home.
The importance of agreeing expectations
To provide the correct kind of feedback in any given situation, it's really important to agree clear expectations beforehand.
Within the first hour in our workshops, we agree a workshop charter. How are we agreeing to be with each other while we're together? We do this whether it's a 7-day programme across six months, or a single day's interaction. We agree what we can and can't do and what we will and won't do, reducing the likelihood of misperception and dissatisfaction. Not doing this, in our workshops or in any relationship or task, significantly increases the possibility of mismatched expectations and unstated assumptions.
For example, if you're my boss and you think I'm performing unacceptably while I think I'm performing acceptably, you'll confront me. But I'm expecting improvement feedback. This can cause significant demotivation, especially if it persists across time.
Agreeing expectations reduces miscommunication and misunderstanding. Start every important interaction with a goal in mind.
Balancing recognition feedback and improvement feedback
Sometimes participants come to our workshops with some 'best practice' ratio of recognition feedback to improvement feedback they think they should adhere to. This can lead to some combination of:
Withholding improvement feedback because they haven't met their quota of recognition feedback;
Giving recognition feedback for acceptable performance;
Making quota by making up recognition feedback, or giving it for immaterial things, "I am impressed by your choice of shoes today because…'.
All of these behaviours are counterproductive. Give the appropriate feedback at the appropriate time based on your observations. If you're giving too much improvement feedback, focus on getting better at noticing excellence. If you're not giving enough improvement feedback, focus on getting better at noticing how things could be improved.
It's fine, and valuable, to think about a 'best practice' ratio of recognition to improvement feedback. Think about it in the context of the lifetime of your relationship with that person, not each individual interaction.
Feedback and relationship life stage
At the beginning of a relationship, when it's less established, having a bias towards genuine recognition feedback can be beneficial as a way to accelerate the strengthening of the connection. Once the relationship has established trust, having a bias towards genuine improvement feedback will speed development and strengthen the relationship further. The listener gets your commitment to their success.
Hopefully you've got by now though, the most important thing with feedback is to do it consistently and frequently – all the time, with everybody, about everything.
Feedback in the workplace: what's next for your business
Now that you know how to give feedback, it's time to learn how to receive it.
About this author
Mike Jenner is the founder of in•flu•ence leadership development consulting whose mission is to fundamentally transform the way leadership is learned. Clients are predominantly Fortune 500 companies across technology, telecom, consulting, financial services, FMCG, retail and education sectors. Mike has won the top teaching award at each of the three business schools where he has held academic appointments. He has an MBA from the Harvard Business School and a B.Eng in Production Engineering and Management from the University of Bath.
Will Harvey is Professor of Management and Associate Dean of Research at the University of Exeter Business School. Will has researched and worked with leaders across the world in multiple sectors. Will has a first class BA degree from the University of Durham and an MPhil and PhD from the University of Cambridge.
Alison Hogan, BA, M.Phil. (Oxon), is a Fellow of the University of Exeter Business School, Exeter Centre for Leadership and founder of Anchor Partners, a consultancy specialising in boardroom behaviours, leadership development and organisational change.