Five key management skills for remote working
7 min read | Mark Staniland | Article | Leadership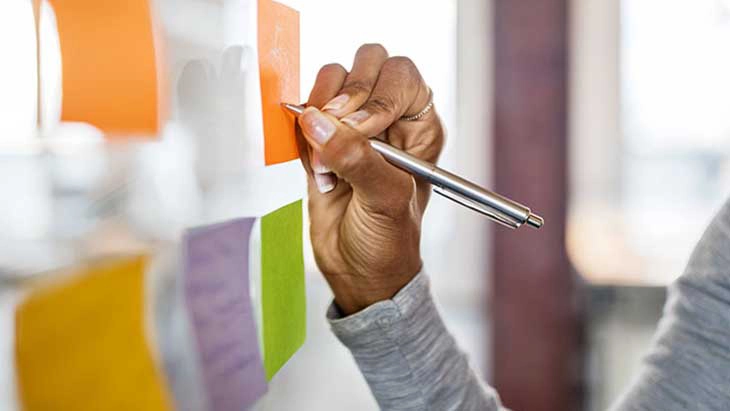 Learn all about the management skills and abilities needed to thrive in the modern workplace. Mark Staniland, Managing Director of Hays Ireland, outlines his five key skills for managing remote employees.
Remote management skills: Key insights
Covid-19 changed what it means to be a good manager. But, if there's one thing that the pandemic showed us, it's that many people can work productively and successfully from home.
The quick shift to remote working put managers to the test. Many had to adapt rapidly to protect their teams and organisations, while others had to change their views of successful work.
Fundamentally, the traditional perspective that people must be present in one set workplace during standard business hours was turned on its head. Scepticism has been replaced with a new-found awareness that output, performance and job satisfaction are the judges of performance.
Remote management skills background
Now, more workers than ever before find themselves at home at least some of the time. Almost a quarter of all UK workers have a hybrid role – working between the office and their homes.
Yet, while we all now know this is possible, the establishment of such hybrid teams is not without its challenges. Managers might find themselves struggling to judge a colleague's well-being, performance, or needs from afar. Likewise, it can be much trickier to foster a sense of teamwork when everybody is in a different location.
In short, managing remote employees demands a combination of abilities. With that in mind, here are five key remote management skills to help people thrive in the modern workplace.
1. Dealing with employees from a distance
Remote managers need to be able to handle a scattered workforce, keeping teams aligned despite their remote locations. Managing remotely presents a very different challenge to managing an in-house team. Greater delegation, trust and transparency are needed, and more effort is required to get face-to-face time with each member of your team.
In a hybrid team, think about how much of your workforce you could support working remotely each day. This number should not impact client engagement, mental health or team culture. Whether it's 20 per cent, 30 per cent, 50 per cent or more, make it the new norm as people look to continue working remotely.
Managers who fail to adapt to remote working will find it more difficult to keep up productivity and morale. To thrive as a manager in the future, managing a team of remote workers must be a string to your bow. Visit our 'Inspire me remotely' employer hub for tips and advice on remote management.
2. Wellbeing management
Remote working can be isolating. Humans are social creatures, and long periods of continuous remote working will have an impact on your employees' psyche. At best, employee motivation and productivity will be down; at worst, their health could be affected.
Talk to employees one-on-one about their experience of working from home. Determine what worked well and what challenges they encountered. Then, resolve how you can overcome these challenges. For instance, perhaps supplying an employee with a better headset and quality office chair could improve their productivity. You might also encourage team members to voice chat once per day, stimulating conversations and information-sharing.
As an employer, it's up to you to ensure that your employees' well-being comes first. Give your team the support they need to stay happy and healthy while remote working. Our remote employee well-being guide offers several tips. You can also find free training packages to help improve remote management skills and worker morale.
3. Agility and adaptability
Being able to adapt quickly to new and unforeseen challenges is a useful skill set at the best of times. By being highly reactive to new developments and agile enough to adopt new solutions, a manager can help their team survive and thrive.
In the modern workplace, you'll need to be ready for whatever the workday brings. Be flexible with teammates, understand that everybody has different needs, and help others adapt to the challenges of their work.
4. Skills strategy and talent pipeline management
Agility is not the only thing a manager needs to thrive in times of crisis. Strategy is also important, particularly in regard to staffing needs. Managers need to have a solid strategy for the acquisition of new talent with new skill sets in the remote working world.
Interviewing, recruiting and onboarding staff remotely all offer unique challenges. Our guide to onboarding remotely offers several key tips. In the future, this skillset will allow you to make hires based on skills alone over location. You could even find yourself managing an international team from your home office.
5. Team development and upskilling
A good remote manager should look at their team's skillset and have a plan for future development. Remote working skills are clearly important, but what else? Coding, design, data analysis?
By offering your team the chance to develop their skills, you'll demonstrate your dedication to their progress. In the long run, you'll build a strong, skilled workforce ready for new challenges and opportunities.
Remote management skills: The next step for your business
As the world embraces remote working, organisations that can successfully manage their workforce will thrive. As a remote manager, you should learn to be flexible, understanding, and helpful. Your hybrid team will be productive, connected, and work as a collective group – because you have laid the foundation for success.
Contact your local Hays consultant for support with hiring remote workers.
About this author
Mark Staniland, Regional Managing Director of Hays London City & Midlands
Mark joined Hays in 1985 as a trainee consultant. Since then, he has been in various roles, sectors and locations during his time at Hays. Nowadays, he is a Board member, and in 2019 his responsibilities were extended to Hays Ireland.