Content_DT_HAYSHACK_WINNER_MAINREGION
HAYS HACK


---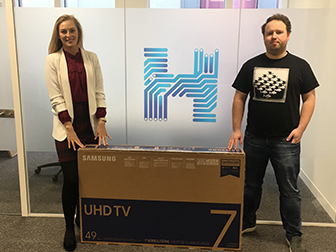 At Hays Digital Technology, we love to get involved with the tech community, and we'd therefore like to thank everyone who participated in the recent Hays Hack to find the best coder in Ireland. We've had a great response and are thrilled to announce our winner of the Ireland Hays Hack Competition 2018.
A massive congratulations to Yoni Lavi, who chose a UHD 4K Samsung TV as the winning prize after completing the hack in record time.
To find out more about our latest developer jobs, click here
Content_multi_job_search_RHmodule
Job Search
Looking for a new role? Search here for your ideal job or get in touch with one of our expert consultants.