Who can you talk to about your job search
6 min read | Roddy Adair | Article | Job searching Market trends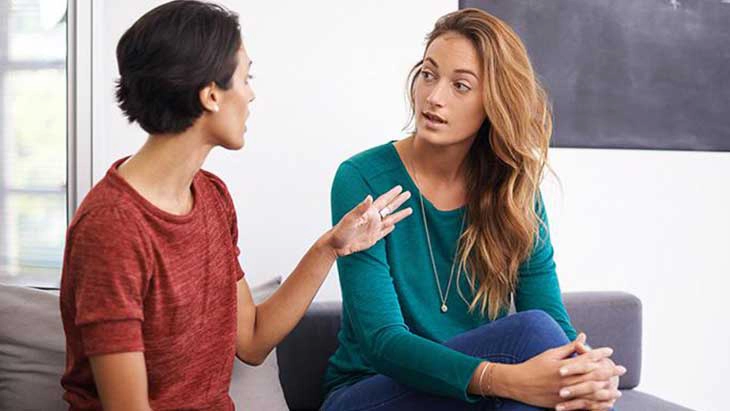 Understandably you want advice if you are hunting for a new job. Check out our list of the three types of people to ask for help with your job search.
People have strong opinions and if you're trying to get advice about your job search, other people's help can sometimes drown your own inner voice. You might not be sure what industry is right for you, and if you should accept a certain job offer. It is important to carefully consider who you go to for advice during this time.
This doesn't mean that you shouldn't confide in people. Turning to others for help when looking for a new job or career path can be a good idea. We've gathered a list of the types of people you're likely to receive the most insightful advice from.
Who to talk to about your job search at a glance
It's key that you are selective about who you confide in, and ensure these people are impartial, rational, and have your best interests at heart. You could speak to a mentor, former colleagues, anyone who's been in the same situation, and recruiters, among others. These people can help you make wise and rewarding decisions that pay off long term.
Keep reading to learn more about the main three types of people who can help you find a job.
For more information or to discuss your recruitment needs, please contact your local consultant.
1. People with nothing to gain
Before you ask anyone for their advice on your job search or any offers, think about whether your decision would impact them in any way. It is for this reason that I would advise that you don't speak to your current colleagues. After all, it only takes one slip of the tongue or one overheard conversation for word to get back to your boss.
Your friends and family might be well placed to give you advice, but remember that they may also have biases which get in the way of your best interests, even if they don't realise it. For instance – a friend may advise that you join their company, because they like the idea of getting to work with you, or they receive an internal incentive for finding new people. If you are thinking of moving overseas – your family may discourage you, because (understandably) they don't want to see you go.
Who do you know that can be truly neutral in their advice? Is there anyone you see as a mentor, even if this is in a very informal capacity? Perhaps you used to confide in a former colleague for advice when you worked together, or even a family friend?
You need to make your decisions based on what's best for you, so before you seek anyone's advice, ask yourself whether they might have any hidden agendas. If you still want their input, you should take what they say with a pinch of salt.
2. People in a similar situation
Do you know anyone who has been in your shoes, and can therefore give you impartial advice? Think about people who have been in the same job, company or industry. This could include former colleagues, friends and family, and their networks.
You can also find plenty of career advice by looking at online blogs and forums, using the keywords relating to your situation. And if you can post anonymously, then confide in these networks and ask them your questions about the career decisions you are facing. You will be surprised at how helpful these online communities can be. LinkedIn also has a careers advice functionality where you type in the kind of specialism and sector you are interested in, and they connect you to professionals who can help you.
3. A recruiter
Last but by no means least, speak to a recruiter. They have first-hand experience placing people in the kinds of roles you want, they know the realities of working in them, and they have to keep your search confidential.
Register with an agency, and meet with an expert recruiter to discuss what kind of roles you are searching for. Remember to provide them with key information on the types of organisations you like the sound of working for, the kind of culture you thrive in, and where you want your next role to take you in your career.
What you need to remember about confiding in other people about your job search
Just make sure you're talking to the right people, people with experience, credibility and who are impartial. Also remember that no-one knows you better than yourself, and no-one else has to live through your decisions. By all means, seek out good advice and take it on board, but don't forget to listen to that little voice inside your head telling you what's right for your career.
For more helpful job search and career tips, browse our career advice page.
About this author
Roddy Adair, Director, Hays Personal & Executive Assistants
Roddy joined Hays in 1999 as a Recruitment Consultant. In 2012 he took over operational responsibility for Hays in Scotland, managing dedicated teams providing expert temporary and permanent recruitment services for a wide range of sectors and professions. From 2017, he has been the lead for Hays Personal & Executive Assistants business across the UK, providing strategic leadership to over 200 consultants.