How to prevent burnout while working remotely
8 min read | Jane Donnelly | Article | Workplace Wellbeing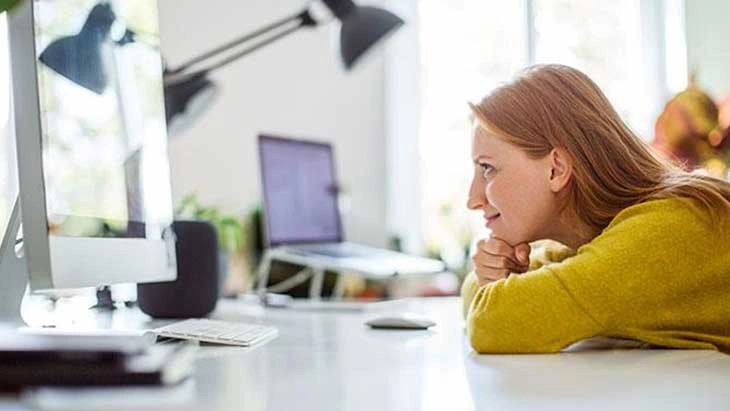 Remote working has brought many positives to our professional lives but it can also make you burnout if you're not setting certain boundaries. Check out our top tips to avoid overworking,
Many of us who have been working remotely or in a hybrid fashion since the start of the pandemic have been at risk of burnout. It's easy to end up working longer hours and skipping your lunch when doing your job from home, as the lines between our personal and professional lives blur.
So, why should we take job burnout seriously, and what can you do to ensure you don't become overworked?

Preventing burnout while working remotely at a glance
The key to a better work life balance while working remotely is setting clear boundaries. This includes separating your work space from your living space, turning off any work devices in the evenings, sticking to your working hours and ensuring that you take breaks during the day. A good balance helps you avoid burnout and is crucial to your mental health.
Whether you've felt the signs of burnout already or want to ensure you don't end up anywhere close, check out our in-depth advice below on how remote workers can avoid overworking and prevent burnout.
If you would like to chat to a professional about the career options available to you, get in contact with one of expert recruitment consultants.
Eight ways to avoid overworking yourself
1. Set boundaries
If you have the space, devote somewhere in your home specifically for remote working, ideally with a desk, supportive chair and good lighting. Clearly communicate the start and finish times of your 'office hours' with the people you live with.
Of course, staying focused and distraction-free while working from home can be especially tricky for those with children. Speak to your manager if it's possible to work on a flexible schedule, allowing you to take some time off during school pick up and continue working later in the evening. Make sure that you still stick to your working hours and don't continue on for longer.
2. Prioritise the tasks that actually matter for that day
Be clear in your mind on what the key areas of focus are that day. Focus on these only, and communicate any urgent priorities with your team, ensuring they are realistic. This will ensure you're all collectively working towards the same aim and concentrating on the right things, whilst also not being overwhelmed by the work needed to be completed in the days and weeks ahead.
By keeping your task list to one day's activities only, it will also give you a greater sense of achievement at the end of the day, making it more likely that you will log off at a reasonable hour and enjoy your evening.
3. Don't be afraid to say no
You need to have the confidence and conviction to say 'no' to tasks that aren't going to help you or your business achieve what's truly important. Habitual over-workers can be 'people pleasers', so you need to learn the art of graciously saying no if certain tasks threaten to overwhelm you, and simply aren't a priority.
If an extra task or two really does need to be taken on, try to be realistic about what you can do in the time that you have during your main working day, perhaps offering a partial solution in the meantime.
4. Don't skip your lunch break
Sometimes while working from home it can be easy to forget to take a proper lunch break. Try to leave your desk and eat elsewhere or head out for a walk. This will enable you to ensure your lunch break feels like an actual break, and in turn, will help you to feel more motivated when you resume work in the afternoon.
5. Don't let your working hours overrun
Be disciplined in finishing work when your working hours are over, at least on some nights of the week. It can be especially tempting for many people to 'put a bit of work in' late at night when they have a full working setup at home. However, this could come at the cost of disrupting your sleep schedule and depleting your energy levels the following day.
6. Switch off your work phone if you can
If this isn't possible, at least limit yourself to only checking your work emails once or twice in the evening. You should also be logging out of Slack or any other chat or messaging functionality that you may have on your machine.
7. Take time for yourself
It's crucial to enable your mind to understand that you are no longer working. Do some exercise, take up a relaxing hobby, spend quality time with your family or housemates or cook a nice meal – in short, whatever you can do that is different to work, and ideally in a different room to your 'home office'. Make this consistent, and it'll become a signal in your mind that the workday is over.
8. Try not to dwell on the negatives
You may be overworking to avoid paying too much attention to the world around us. So instead, try to focus on the positives in your life and what you have to be grateful for. In short, there are always things that you can do to distract yourself and use your time in healthy and productive ways, rather than overworking.

What you need to remember about preventing remote work burnout
It's easy to slip into a habit of doing more hours while working remotely. However, it can be a slippery slope that causes you to venture into bad habits, such as overworking and putting your wellbeing in danger when you most need to look after yourself. It's therefore important to have a sense of perspective and let go of the unrealistic expectations you have for yourself.
By adopting simple but stringent measures like the above, you will be able to better shield yourself from the dangerous consequences of overworking during this very testing time for us all.
To access a host of resources for helping you adapt to the new way of working, visit our career advice hub. As your lifelong career partner, we are with you every step of the way and will be updating this site regularly with new guides, blogs and information to support you.
About this author
Jane Donnelly, Managing Director East of England
Jane joined Hays in 1994 as an Associate. Initially recruiting within the Accounting and Finance in Scotland she progressed to Regional Director in 1999 running all Hays Finance, Office Support and Customer Contact recruitment across the North East of England.
Moving to Hays Australia in 2001 as Regional Director for offices across the Sydney and Canberra specialisms included Finance, Procurement, IT, and Banking. Jane also launched Hays Life Sciences in Australia and was instrumental in the development of the national Healthcare and Education business. In 2006 Jane was appointed a Senior Regional Director.
Jane returned to the UK in July 2013 initially completing a number of operational project roles in Cambridge and Chelmsford before taking responsibility, in 2015, as Regional Director for 6 offices across Essex and Suffolk. In 2017 Jane was appointed as the Managing Director for the East of England region, covering 17 offices. She also currently sits on the council for the CBI in the East of England.