Q&A with Jose Neto – Head of IT, New York FC
9 min read | David Brown | Article | Career development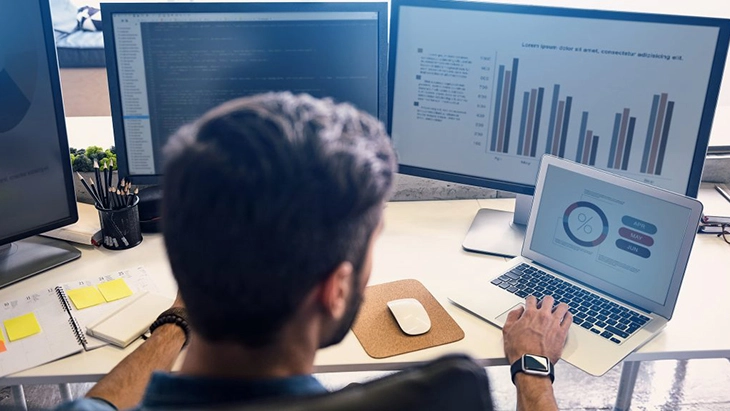 Read about the future of technology within the sports industry. Jose Neto, head of IT for New York City Football Club, talks innovation, balance and sporting challenge as part of our extended #MatchYourAmbition campaign.
#MatchYourAmbition with NYCFC: Key Insights
Hays have extended our #MatchYourAmbition campaign to New York City Football Club. We have spoken to a number of key staff members to find out about their role and influence within the club. The interview below is with Jose Neto, Head of Information Technology.
Jose tells the story of his career and how he came to work for the club.
A typical day-to-day role in IT at a major sporting club includes significant research and fan insight.
Predictions for the future of IT within sport include increased use of virtual reality and immersive technology.
Senior IT are becoming ever-more transformational, so Jose recommends a solid understanding of business for success in a technology career.
#MatchYourAmbition with NYCFC: The Background
New York City Football Club (NYCFC) is an American professional soccer team based in New York City that competes in Major League Soccer in the Eastern Conference of the league. As Official Recruitment Partner, Hays has been pivotal to NYCFC since the Club's inaugural season in 2015. Together, NYCFC and Hays have developed a truly integrated partnership, with a strong understanding of the synergies between the world of work and elite sport.
In this interview, Jose Neto shares his career story. He gives some expert insight into both his role at NYCFC and his predictions for the future of IT within the sporting industry.
The future of IT looks increasingly immersive and transformational
Can you talk us through your career journey to date and how you reached your current position?
I spent most of my career working in a completely different industry – consumer packaging. I started as a management trainee straight after university, worked up through the company ranks until I became Head of Information Analytics for global marketing and innovation. I then moved from the UK to the US which is when I began my role with NYCFC, just six months ago.
One highlight of my journey was part-way through my previous role. I joined the internal audit group representing the IT function and I think that was a great opportunity for me to understand all of the nuances of how the business operated across multiple functions and multiple countries. I think it is important that you try to have a balanced career that gives you visibility of different functions.
What initially attracted you to New York FC?
There were two things:
First, I thought it was a great opportunity to work in the sports/entertainment industry. I am very passionate about the impact that this industry and our club can make in society. We run a number of initiatives with the City in the Community Foundation. The foundation promotes fitness and physical education amongst children and teenagers, as well as educational and youth leadership programmes
Second reason: NYCFC is part of a multinational group, City Football Group. We have operations in multiple countries across the globe so being part of a global group gives me access to worldwide expertise and support
In summary, I am working in an industry that, I believe, benefits our society, and a club which operates a business model linked to my own beliefs.
Can you describe your typical day-to-day role and highlight the elements you enjoy the most?
There is never a typical day in IT!
I normally spread my time between our Manhattan office and the office at our training facility in Orangeburg, NY. The first thing I usually do is review our social channels, website and mobile apps to try and get an understanding of how our fans are feeling and what topics are being discussed. Being on top of the fan's digital journey is a key part of the modern IT role.
The part that I enjoy most is when I am able to set some time aside to identify new technologies that are going to help us drive the club forward. Soccer is a very competitive sport, so any small improvements we make in IT could make a huge impact on winning and losing a game.
How do you think your specific role will evolve over the next five years?
I think that technology roles are becoming more and more transformational. I have described this before as the need to become business navigators. IT professionals should help the company identify and navigate the opportunities we have for growth and innovation. We must be able to help differentiate our business from the competition. IT will become the core function for the business, a revenue generator instead of just a traditional cost centre.
I always focus on leveraging current and emerging technologies. I also always like to emphasise available technology, especially tools that we have brought into our ecosystem. IT professionals have a tendency to focus on the future, and they get bored with the current technology. I think it is very important that we extract the maximum value from our current landscape.
In the last six months I have already realised that CFG and NYCFC are very passionate and always looking at new ways to innovate. I am very proud to be part of that.
Which aspects of your role are most challenging and how do you overcome those challenges?
I think the most challenging aspect of this particular role is making sure that everything works as it should on a game day. The pressure of game day is enormous. We have to be very coordinated as a team to serve a whole stadium of fans, members of the press, multiple sponsors and the team on the field. Each of them relies heavily on technology, and we are responsible for making that engine work.
What are the most exciting/innovative projects that you have been involved with in your current role and how have these enabled you to grow professionally?
The most exciting part of the past six months has been visiting different sports venues across the world to understand how technology and data are being used. I have seen how tech is helping clubs to improve both the fan experience and sports performance. I am constantly using this to inform our own journey as we plan our own new stadium.
How do you see your current role contributing to the overall success of the business?
The real contributions result from acting as a 'change agent' and helping the club navigate the opportunities, challenges and risks that we face every day. At the same time, my role must keep sight of our broader vision to become an industry leader, as part of a global network of clubs. I think my contribution is focused on three main areas:
Winning with data
Excellence in sports technology
Making sure everything works as it should
Do you think it's important to continuously upskill? If so, how do you do it?
I think it is critical for everyone, but it is especially true when you work in a leadership role within technology. It is vitally important to understand how the business operates. Personally, I try to involve myself in cross-functional initiatives, which usually give me the chance to understand and support different parts of the business. I also have a wide network of peers across the industry that help me establish best practices, challenges and opportunities.
Finally, it's important for all IT professionals to be as close as possible to the start-up environment, because the future of technology is being driven there. I usually spend one morning a week focusing exclusively on start-ups, technology trends and talking to our suppliers. I think that is what keeps me connected to the industry and to technological innovation.
From a technology point of view, how do you predict the company will be different in two years? How do you see yourself shaping that change?
I hope that in the next two years we should have a bigger impact on the supply chain in the management of sports performance. I think it will really help our players to live better: eat, sleep, train, reduce injury, recover faster and perform at the highest level. Through technology and harnessing the limitless data that is available to us, we can really make an impact in this supply chain concept of our sports.
What do you think will be the future trends in digital transformation?
Answering your question through a sports lens, I think a couple of things are going to happen:
Virtual reality will have become commonplace in our industry. I think we are going to use that more and more to train players and to provide our fans with uniquely immersive experiences.
We will see a huge change in how we consume our content. For example, La Liga, the Spanish football league, now broadcast their matches in India via Facebook. This is a delivery completely free of charge and outside of traditional channels
Something I hope will happen is full-scale 3D holographic games, broadcast live into stadiums/arenas. I think this is an area where technology can really grow and develop.
Is there any advice you would offer to someone looking to pursue a similar career?
I think it is important to have balance in your core competencies. For me, that balance is between technology and business. It is critical to understand how the business really operates, the main objectives that the business has, and how IT can be used to help achieve those objectives. I think senior roles are becoming more and more transformational, so without business acumen you are going to struggle in this modern IT world.
What's the best piece of career advice you've ever been given?
There are a couple that have been impactful:
Have fun, celebrate your successes, and ensure you have a balanced personal and professional life
More recently I was told to manage my own energy, not time. Balance all the different components of your life, such as physical, mental, and emotional energy. Doing your best at all times is what it is all about
What are you most proud of in your career?
I am most proud of the people whose careers I helped develop. I am frequently contacted by my former colleagues to talk about their career goals, their challenges and their ambitions. I'm very proud and satisfied to have acted as a mentor to them and to have helped them progress.
#MatchYourAmbition with NYCFC: More to Explore
If you found this blog interesting, we think you'll enjoy hearing from other key team members at NYCFC.
Q&A with Chris Holly, e-Sports Player, New York City FC
Q&A with Jen Knowles, Head of Marketing, New York City FC
Q&A with Joyce Jelks, Head of HR, New York City FC

About this author
David is CEO of Hays US. He is responsible for leading all Hays staffing operations in the US and a 20-year veteran of the staffing industry.
Prior to his role as head of Hays US, David worked in various roles in sales, sales management and executive management. He lives in Atlanta with his wife and three children.