Is now a good time to move jobs?
5 min read | Gaelle Blake | Article | Job searching Market trends Relocation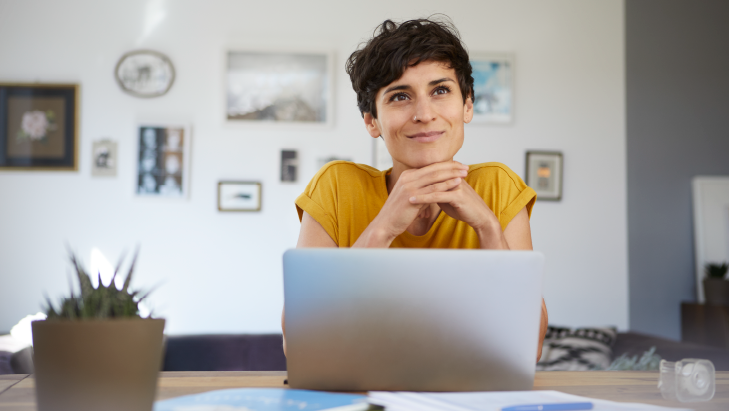 Gaelle Blake, Hays director of permanent appointments UK&I shares what to reflect on when thinking about your next career steps.
Anticipating when to move jobs can be a difficult decision, especially among headlines of a cost-of-living crisis and noise in the media about the economy.
However, the reality is that according to the CSO, the job vacancy rate in Ireland stands at 1.6% at the end of Q2 2022, compared to just 0.7% during Covid-19 and less than 1% in 2016. Employers across the majority of industries including tech, construction, finance, HR, marketing are struggling with skills shortages and can't attract the amount of people they need to grow.
At a glance: should I move jobs?
We recently conducted a poll on LinkedIn, which received over 3,600 votes; 61% of people told us they believe now is a good time to switch jobs. If you're on the fence about moving, or haven't even considered it – carry on reading for deeper insights into reasons why you should.
In this blog, we cover:
The labour market
The likelihood of getting a pay rise
The concept of quiet quitting
How to discover what you want out of your job role
'It's not uncommon to hear of above 10% pay rises when moving from job to job.'
1. Lots of choice and less competition
The job vacancy rate is much higher than pre-Covid and according to our latest Ireland Quarterly Insights survey, 85% of employers are actively hiring – meaning you can be selective with who you want to work for. On top of this, there's much more choice in how you might work in those jobs with lots of employers offering hybrid working, flexible hours and even fully remote roles.
You're also going to face much less competition for jobs. That's not saying you will breeze through an interview but the fact that there's currently high employment, a growing number of people choosing not to work and low unemployment means employers have a smaller pool of applicants to pick from.
2. You're likely to get a pay rise
As employers struggle to fill roles many are responding by offering above average pay increases to attract talent. It's not uncommon to hear of above 10% pay rises when moving from job to job and you'll find in some industries employers are offering signing on bonuses or additional benefits to secure staff. If you're not receiving the pay rise you want from your employer, it's a good time to look elsewhere.
3. You are already 'quiet quitting'
You might have heard of 'quiet quitting' where staff are doing the bare minimum that their role requires or disengaging with their work entirely. However, if you are feeling like this within your job – there's often no coming back from it and it's actually a clear signal you might need to move on. Take the time to look at what opportunities are out there, and this could help re-ignite the passion for your career and set you on the path to find a role that's much more suited.
In fact, now is a great time for career self-reflection if you've just returned from a summer break and have that all too familiar return to work dread. Here's a couple of questions to use if you haven't paused to think about what you want out of your job recently:
Am I feeling fulfilled in my current role?
Am I learning and growing?
Is my pay reflective of my responsibilities?
Are there opportunities to progress my career in my current company?
Is my work life balance where I want it to be?
Would I prefer a role or employer that better aligns to my values?
What you need to remember about moving jobs
Once you've read the blog, had that chance for self-reflection and if you're ready to look for a new job – jump in and take a look at the opportunities we have or register with us to speak to one of our experts.
About this author
Gaelle Blake, Director of Permanent Appointments and Construction and Property, Hays UK&I
Gaelle joined Hays in 1999, and in her time with the business, she has led dedicated teams providing expert recruitment services for a wide range of sectors and professions. In 2018, Gaelle started her current role as UK&I director of hays permanent appointments, where she works with 800 permanent appointments consultants across the UK and Ireland. She helps organisations to find the talent they need to achieve their goals, and helps customers to find the roles they need to move their careers forwards. In July 2020, Gaelle was also appointed as UKI director of Hays construction and property, leading the 300+ recruitment consultants in the largest specialist construction and property recruiter in the UK.