"Why should I hire you?"- How to stand out during a job interview
7 min read | Jane Donnelly | Article | Interview advice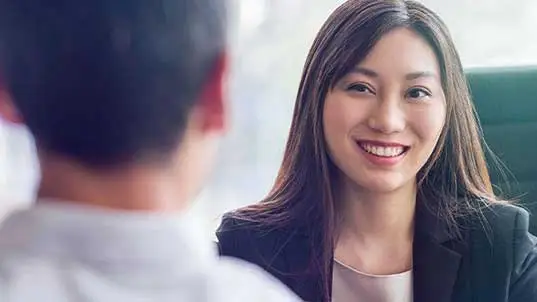 Before an interview, it's important to understand how to position yourself to be the best person for the job. "Why should I hire you?" is often one of the first questions asked in an interview. Therefore, how you respond to this question could help set up a positive tone for the rest of the meeting, and make the interviewer engaged with your upcoming questions.
Therefore, it's vital to prepare a sharp and effective answer to this question before your interview. After all, if you come unprepared you risk leaving the interviewer disinterested from the start, and you could struggle later on in the interview.
How to sell yourself to your interviewer
Firstly, you must try to perfect and implement aspects of an "elevator pitch" to your interviewer, by focusing on all the reasons why you are the right person for the role.
An 'elevator pitch' in the context of a job interview, is a short summary, summarising who you are, your background and your relevant experience.
Using and preparing this type of response ahead of time can be extremely useful to ensure you're able to explain clearly why you are the best person for the job.
The perfect formula to persuade and impress your interviewer
Your "elevator pitch" needs to consist of three convincing reasons why the employer should hire you. Throughout the interview, you will need to highlight more than just three reasons evidencing your suitability for the role, but by outlining three strong qualities, this gives you the opportunity to develop upon these points throughout the interview and may also spark follow-up questions from the interviewer.
The 'power of three' in communication has been found to be extremely effective in engaging with an audience, and commanding their full attention:
Dictate the interviewer's decision: Interestingly, a study in 2013 by two marketing and behavioural science professors found the use of three distinct points such as advertisement, stump speeches and other messages aimed at manipulating opinion particularly persuasive. However, the use of four or more claims tended to make audiences more doubtful.
Help the interviewer remember you: More evidence indicates that the 'power of three' is also useful in helping people retain new information you've shared with them. This Forbes article states, "If your listener will only remember about three things from your conversation, presentation, or email, why overwhelm them with twenty-two key messages? Longer lists are complex, confusing, and convoluted."
How to create your perfect pitch
So, how should you respond to the interview question "Why should I hire you?". Let's look at how you can prepare and answer this question:
What was it about the role and/or the organisation that caught your attention? It's important to highlight your interest and passion for the role and company, along with how it fits with your career goals. This is often a great place to start when answering this question.
Be detailed, but concise. Make sure your response isn't too long as you run the risk of losing the interviewer's interest. Everything you say needs to have a purpose– which is why, again, sticking to just three key points can be so crucial.
Identify three skills you're going to mention, making sure they are relevant to the job you're applying for. Your list should include 'hard skills' mentioned in the job description, such as digital marketer or foreign-language proficiency, as well as transferrable or 'soft skills', like team player or having good conflict management skills. Then, remove everything you've written down that isn't crucial to your pitch. As a result, you'll end up with three key points that you're confident will intrigue and engage the interviewer.
An example of an "elevator pitch"
Here is an example of what you should be saying next time you go for an interview, but don't be intimidated by the possibility of being asked: "why should I hire you?". Think of this opportunity as a time to show off your skills to the interviewer, as well as ensure they remember you for all the right reasons.
I've been impressed with the pioneering and innovative approach that XXX has taken over the years. So, when I came across the job advertisement for this role, it really sparked my interest – not only is it aligned to my career goals, but the prospect of working with a market-leading organisation really excites me.
I think there are three key reasons why you should hire me. (1) Firstly, I believe I can provide the team management and coaching skills that you've asked for in the job description. I have a proven track record of managing, empowering and developing high-performing teams, and it's something I enjoy doing. (2) Secondly, I can bring a strong commercial acumen, which delivers proven results, to your organisation. An example of that is the fact that my team helped to drive a 25% boost in sales over just two years, through the strategic repositioning of one of our key products. (3) And thirdly, I consider myself to be skilled in innovative and creative thinking, helping to protect your organisation from the change and disruption which is inevitably around the corner."
About this author
Jane Donnelly, Managing Director East of England
Jane joined Hays in 1994 as an Associate. Initially recruiting within the Accounting and Finance in Scotland she progressed to Regional Director in 1999 running all Hays Finance, Office Support and Customer Contact recruitment across the North East of England.
Moving to Hays Australia in 2001 as Regional Director for offices across the Sydney and Canberra specialisms included Finance, Procurement, IT, and Banking. Jane also launched Hays Life Sciences in Australia and was instrumental in the development of the national Healthcare and Education business. In 2006 Jane was appointed a Senior Regional Director.
Jane returned to the UK in July 2013 initially completing a number of operational project roles in Cambridge and Chelmsford before taking responsibility, in 2015, as Regional Director for 6 offices across Essex and Suffolk. In 2017 Jane was appointed as the Managing Director for the East of England region, covering 17 offices. She also currently sits on the council for the CBI in the East of England.