How to say 'no' at work
7 min read | Mark Staniland | Article | Career development Industry insights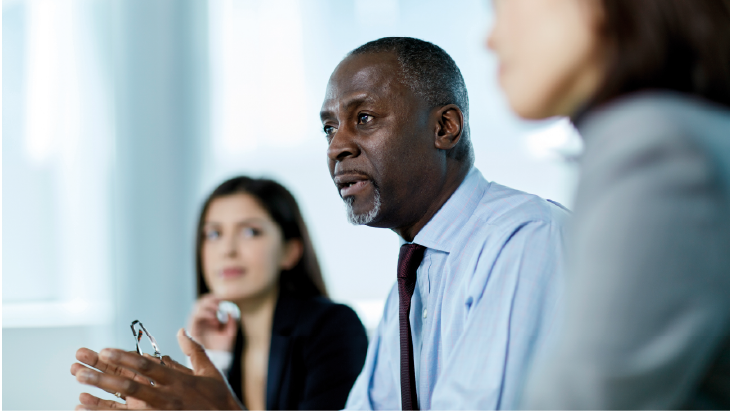 Throughout my career, I've been an advocate in saying 'yes' to opportunities. Putting yourself out of your comfort zone is daunting and saying yes to asks that come your way can help you build new experiences in the workplace, enhance your skills and further your career.
However, for some people, saying yes too often can lead to burnout, demotivation, and a lack of control within your work life. Knowing how to say no isn't easy either – it's natural that most of us most of us want to be considered helpful, dependable, and agreeable to workplace requests.
Agreeing to take on too much may lead to poor prioritisation, missed deadlines and working extra hours to deliver where you over-promised. Hence, no matter what stage of your career you are at, learning to say 'no' and setting good boundaries could help you say yes more often to the opportunities that matter.

At a glance: how do I set healthy boundaries?
Block out your time to work on specific projects so you know what availability you have to take more on.
Soften a 'no' by suggesting alternatives or by delegating to others who can help.
Implement an agile working approach, using a scoring system to communicate project effort and duration.

"Learning to say 'no' is an important tool for healthy working relationships and personal wellbeing."
What's in a 'no'?
Firstly, a 'no' doesn't always have to be a 'hard no'. Ease your way into setting good boundaries by offering alterations to deadlines suggested, proposing alternative resources that already exist, or, if needs be, by asking two conflicting stakeholders to discuss whose work should be taking priority.

Create boundaries and stick to them
1) Organise your calendar – Block out five to 10 minutes ahead of each meeting to make sure you're fully prepared and able to ask any questions you may have, or to come armed with answers that others may require. During the meeting, take notes; afterwards, circulate them to ensure nothing has been missed. While this may appear to take up more time in the short-term, it can reduce unnecessary follow-ups later down the line, should anything have been left unclear.
2) Don't try to overdeliver – Allow yourself time for breaks while you're working and, once you have a clear idea of how long it takes you to complete a given task, confidently communicate those timings to those making requests of you. Communication is at the heart of getting people to understand what's feasible in a given timeframe. You'll only underdeliver if you don't allow yourself enough time.
3) Avoid unnecessary meetings – Make sure you're allocating time to do the work. It sounds simple enough, but saying 'yes' to a constant flurry of meetings can mean your in-tray is overflowing, your time is consumed in catch-ups, and your output is little more than minimal. If you have a deadline within the next couple of days, block out time in your calendar to do the research you need, draft the work, and to secure stakeholder approvals before it can be moved to the next stage of completion. If your calendar is blocked out, you'll more confidently be able to say, 'Apologies, but, no, I don't have availability then, how about the same time tomorrow?'.
4) Minimise interruptions – During these dedicated blocks of work time, avoid distractions by switching your personal and workplace notifications to 'do not disturb'. This is a clear message to your colleagues that you're not available for interaction at this time. They'll likely receive an automated response, which will serve as a polite, 'no' on your behalf.
5) Write it down – Always, in your workplace communications, maintain a polite but firm stance that outlines your availability to commit to work, and your expectation of when it might be delivered. This is a good opportunity to raise any blockers that may prevent work being delivered when expected. Written communication provides a paper trail of your commitments, and others' expectations of you, should you need to remind them of what you said 'yes' to in the first place.

Justifying your 'no' to a workplace request
6) Is an alternative available? Sometimes, stakeholders might not be aware that a resource already exists. Declining their request and pointing them in the right direction can save everyone's time. It can also serve to showcase other colleagues' good work – and their potential as a useful party when you're not available.
7) Delegate – Override any innate desire to be everything to everyone, all at once. In this instance, saying, 'No, but one of my colleagues may be able to help', not only frees up your time, but highlights others who could help in the future.
8) Implement a point-based triaging system – Adopt an agile approach to work and allocate points per project. The higher the points, the more effort – and likely more time – a project will take. So, when you say, 'No, I can't pick that up at this time', you feel justified in doing so, because it's based on data. These systems are most effective when agreed in principle with business stakeholders prior to implementation.
9) Escalate if needed – If you're implementing these practices and still feeling pressured to take on more than is feasible, discuss it with your manager. It's possible they're already aware and have plans in place to reduce your workload.

It's time for a balanced work-life
Learning to say 'no' is an important tool for healthy working relationships and personal wellbeing. However, if it is time to look for a role that gives you a better work-life balance, check out the latest UK jobs (and Ireland jobs) in your sector today or reach out to one of our expert consultants in the UK or Ireland offices.
About this author
Mark Staniland, Regional Managing Director of Hays London City & Midlands
Mark joined Hays in 1985 as a trainee consultant. In 2000, he launched Hays Education with just six recruiting experts. By 2007, it had become the market leading education recruitment consultancy in the UK with a turnover of £70m, and employing 250 staff. He was appointed as Managing Director of Hays Midlands in 2011, and in 2015 was also appointed Regional Managing Director of Hays City of London business, based in Cheapside.