Being my authentic self has boosted my career (Pride IRE My Hays Story)
5 min read | Aaron Barry | Article | Workplace Diversity, Equity & Inclusion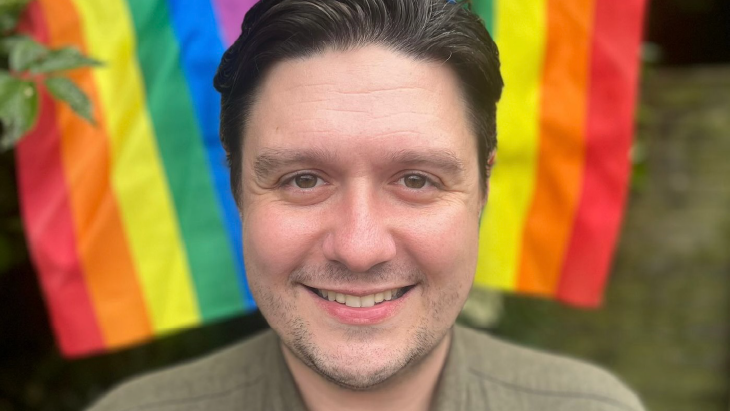 I opened up to people about my sexuality when I was around 16 years old, and that's when my journey to becoming my authentic self began. By the time I entered college two years later, I'd propelled forward in my journey of self-acceptance. Now, I feel confident of the person I am – particularly from a sexual orientation point of view.
I've been working in marketing for 10 years, and I feel thankful that, in every company I've worked, I've found members of the LGBTQ+ community and allies, too. My Hays Story started a year ago, and working in such an inclusive environment has helped me to continue in my journey to being my authentic self, as has becoming Chair of the Hays Ireland Pride network and a Board Director for Dublin LGBTQ+ Pride.

What does 'being my authentic self' mean to me?
Being authentic in the workplace isn't just about my sexual orientation – it's a broader concept of self-awareness, where I feel accepted and comfortable in my expressions. Being a proud, openly gay man is just one of the ways I'm authentic to me.
I am also a Gaeilgeoir (Irish speaker) and have a nerdy side; qualities that aren't necessarily in relation to my sexual orientation, but they add up to encompass me and my full self and I now feel comfortable talking about them.
"Being my authentic self is about not muting myself or decreasing the volume of my voice."
I feel confident speaking up, voicing my concerns, expressing my ideas, and putting myself forward for opportunities.

We should all feel safe in our work environment
A welcoming, inclusive work culture with a thriving Pride network is a pre-requisite to being able to show your authentic self, along with how you feel, your comfort levels, and more.
Hays Ireland recently achieved the prestigious Investors in Diversity Gold award; we are one of just 11 organisations in Ireland that currently have this accreditation. Although I work at a company where DE&I is taken seriously and I am made to feel comfortable being my true self, this isn't the case for everyone in the LGBTQ+ community.
There have been times in previous jobs where I've met challenges, such as feeling excluded or that I didn't fit in; barriers like these make it hard to feel you're being your true self. It's really important to have an LGBTQ+ network – to get that sense of there being a place for everyone, and that feeling of acceptance and inclusivity.
Other seemingly small signals can have a huge impact; people putting their preferred pronouns on their email signature, for example, demonstrates consideration for others and shows LGBTQ+ employees comfort, safety and security.

Authenticity has helped me to achieve career success
Being my authentic self has helped me to build self-awareness, which improves my ability to build rapport and develop close relationships with peers, direct reports, senior management, and stakeholders. It helps with my creativity and innovation, as my authentic self has an increased capability of communicating more effectively and confidently.
Most importantly, my authenticity has made me happier and increased my morale in the workplace. I feel seen, able to showcase my strengths, and able to just 'be' without having to worry about diluting myself.

It's an ongoing journey
It's important to acknowledge that becoming your true self is a journey you'll travel your whole life, it's not an overnight transformation. However, everyone's journey is different. When you're comfortable, when you understand, when you're aware, that's when you can really become your authentic self.
If you'd be interested in joining me and working for this inclusive company, take a look at our careers page.
About this author
Aaron Barry
Marketing Manager at Hays | Board Director at Dublin LGBTQ+ Pride | Marketing Professional with ten years' cross-industry experience