What companies must consider before investing in hybrid hiring
12 min read | Mark Staniland | Article | Compliance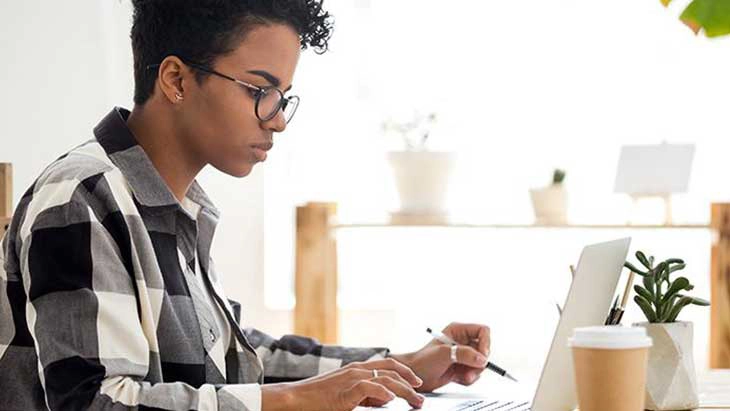 Employers should be as excited about hybrid working as employees are. Learn from our leading recruitment specialists as they share twelve topics to evaluate before hiring your first remote employee.
Hiring remote workers in a hybrid environment: Key Insights
Since the pandemic, more workers than ever before want the option of a hybrid environment
Infact, 65% of those surveyed by Hays would be tempted to move to another organisation if they had more flexibility
In a global skills shortage, hybrid hiring also benefits employers as it increases your net for skilled workers
Hybrid hiring isn't as simple as allowing staff to work from home. Later in this article we discuss 12 key areas you need to consider.
Keep reading to begin your organisation's hybrid workplace transition and learn how to hire remote employees.
You can also explore Hays Thrive and speak to our hybrid work consultants if you have any questions.
The benefits of hybrid working for employers in a global skills shortage
Without the need for a 24-hour office anymore, why would companies restrict their hiring to just the city, or even country?
Our Hays Pandemic Implications on the World of Work report found employers and employees alike felt the same. "The ability to work remotely increases flexibility[…] expanding where employees can work from, and employers can hire from."
Yet in the Remote Leadership Report we found 1 in 5 leaders don't have a strategy to find remote talent. In fact, nearly half plan to mostly look in the region surrounding their offices.
This means that companies are missing out on the benefits of hybrid hiring. But what are those advantages?
We found three key benefits for hybrid hiring:
Retain current employees and attract new staff
Broaden your talent pool to solve skills shortages
Increase your companies diversity rating
Retain current staff and attract new staff
65% of employees say they would be tempted to move to another organisation for more flexibility. Failure to show tangible proof that you have a hybrid plan can leave you struggling to retain your current talent.
The 2022 Hays UK Salary Guide found 65% of respondents would be tempted to move to a company for more remote flexibility.
"Employees want control of where, when, and how they work, and expect businesses to provide options." - The 2021 Work Trend Index.
Broaden your talent pool to solve any skills gaps
Hiring remote workers expands the talent pool from which you can hire. This is vital as across the globe there is an acute skills shortage across many professions. There are simply not enough people with the right skills to fill the jobs of today and tomorrow.
Wagestream, a fast-growing FinTech, noted 85% of their employees were London-based before the pandemic. In a news article by the London Evening Standard in November 2021, that figure had changed to 50%.
Depending on your ability to manage international taxes and legislation, your organisation can choose to recruit within country borders. Or if you have the legal support you might consider casting your hiring net further afield.
Increase your companies diversity rating
Hybrid hiring also increases the diversity in your workforce. According to a 2021 Bureau of Labor Statistics report, over six million people in the US workforce have some form of disability. In the UK, that figure was 4.4 million in Q2 of 2021. The disability employment rate in that period was 52.7%, compared to 81.0% for non-disabled people.
By moving to a hybrid model of working you remove barriers to work and welcome greater diversity.
12 things to consider when recruiting for permanently remote roles
The benefits of Hybrid hiring are clear. But that is only half the challenge. Hybrid hiring is different to in-office hires where it's easier to build a relationship and integrate team members.
Here we have defined 12 areas to consider to create a resilient hybrid hiring process.
1. Define which roles in your team are best suited to working remotely.
Digital-based roles and 'knowledge worker' roles are naturally done from home or remotely. Think about which roles in your team are better suited to having no set location compared to other positions.
2. Tailor new value-adds to your remote workers.
The perks that you offer to remote employees will vary from workplace and hybrid employees. For example, you might support your remote workers by helping them to achieve the right set-up in their home office. Alternatively, you could consider providing perks such as virtual yoga classes or meditation apps.
3. Consider the different skills the same role will require if someone is working remotely
Working remotely requires different skills to working in an office. Even in the same role, two people will need different organisational and software skills to work in office vs remote. Include these skills when you write the job description and interview candidates.
The most effective remote workers tend to be strong self-starters, who are punctual and responsive. They also have a positive attitude, value results over process and are good problem solvers.
4. Test if your remote interview can appropriately assess skill sets
You'll also need a way to assess your candidates skills for the remote role you're hiring for. Your assessment might involve giving the candidate a test project. You can also ask them questions such as "How do you intend to collaborate with colleagues when working remotely?". You may also find our guide to remote interviewing helpful when considering your interview process.
5. Build a remote-native onboarding process for permanently remote employees
At Hays, we've found several essential steps to effectively onboard a remote worker that differ from on-site workers. These include ensuring they can access the relevant files and virtual training. You should also organise virtual 'meet and greets'. Dr Maggi Evans explained it's important your remote team members feel a sense of belonging by contributing right from the start.
6. Train your existing people managers on remote working management styles
Traditional management styles don't always translate to remote working. Teach your people managers to establish a relationship of mutual trust and use a compassionate leadership approach. These changes will help your managers understand how to hold employees accountable for their work while still prioritising their wellbeing.
7. Evaluate your key performance indicators for remote workers.
Many organisations are looking at how they will measure value in the post-COVID-19 working world and hybrid world. You too will need to challenge yourself on exactly how you measure your employees' performance going forward. Decide if your transformed performance metrics need to differ between your employees based in the workplace and your remote workers.
8. Create a structure to give remote workers and on-site staff visibility and opportunities for progression
Remote workers should have the same career opportunities even if they aren't as 'visible' as your office-based team members. Schedule regular one-to-ones with all of your remote employees, as well as your office-based ones. Doing so will make honest career conversations habitual for all of your people.
9. Define relevant training and development plans for your remote employees
As our EMEA Learning & Development Manager, Micki Frankland has explained, you need virtual training for your remote teams. Training areas include ensuring staff can use online collaboration technologies and receive one-to-one training support.
10. Remember to prioritise your permanently remote employees' mental health and wellbeing.
It's crucial to set workplace boundaries for your remote workers when they have no physical boundary. Encourage staff to use their holiday allowance, so that they can achieve a healthy life-work balance. Prioritise the wellbeing of your permanently remote staff by encouraging them to build relationships with their other team members.
11. Budget for your remote workers' equipment needs
You have a responsibility to pay close attention to your remote employees' working conditions, just as you do for your office-based personnel. Consider whether they have a comfortable office chair and the right software to do the job on their laptop. Also, review health and safety issues that might apply in the specific setting where they will be working.
Consider how you will conduct workstation assessments remotely. You'll also need plans to mitigate the health and safety risks associated with extensive periods of screen work.
12. Evaluate any new security implications from your new hire working remotely
Working from home naturally raises new security issues such as data being processed outside of a controlled environment. This CIO.com article shares some helpful best practices, including moving to multi-factor authentication (MFA). The CIO also recommends phishing email training, introducing protocols for sharing files and data, and taking extra precautions for virtual meetings.
Next steps to begin hiring and integrating remote workers
The benefits of hybrid hiring could not be clearer. In research by McKinsey last year nine out of ten businesses surveyed used hybrid working. However, 68% had no detailed strategy to communicate their plans. A lack of strategy is dangerous and opens businesses to missing out on the benefits listed above.
Going forward, avoid slipping into bad habits. Actively invest in learning about hybrid work and re-imaging your processes for a new setup.
About this author
Contact your authors for more information about hybrid hiring
Alistair Cox
Chief Executive, Hays
https://uk.linkedin.com/in/alistair-cox-402257
Alistair has been the CEO of Hays, plc since Sept. 2007. Alistair commenced his career at British Aerospace in the military aircraft division. He completed his MBA at Stanford University, California in 1991. Alistair then returned to the UK as a consultant for McKinsey & Co and rejoined Hays in 2002.
Mark Staniland
Managing Director of Hays Ireland
https://uk.linkedin.com/in/markstanilandhays
Mark joined Hays in 1985 as a trainee consultant. Since then he has thrived in various roles, sectors and locations during his time at Hays. He is a Board member and in 2019 his responsibilities extended to Hays Ireland.