Business survival strategies and skills: Lessons from Covid-19
7 min read | Carmena Wood | Article |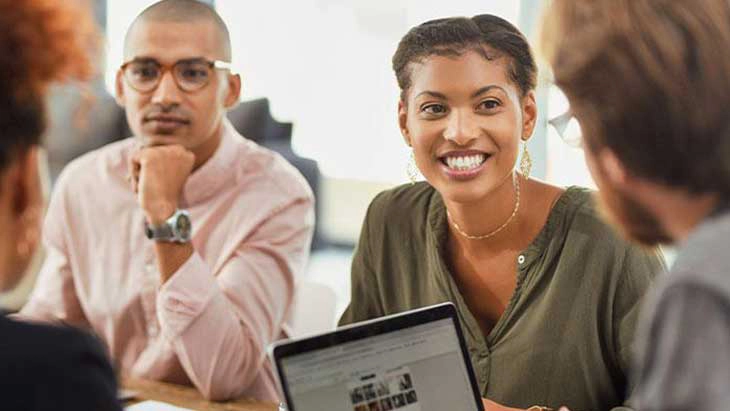 Discover the four essential skills all organisations need to survive in all economic climates. Carmena Wood, NW Managing Director, shares her learnings from the pandemic on advice on resilience in business.
Essential skills for business resilience: Key Insights
While ongoing economic change is distressing, it has removed any uncertainty about the skills a business needs to survive.
Soft skills such as communication are at the top of the list of reasons business sink or swim.
Company-wide technical literacy is essential for businesses to adapt quickly enough when disaster strikes.
All businesses can teach these skills to staff members or create new roles to fill gaps. Hays can help you create a recruitment and training plan to improve your business's resilience.
Keep reading to learn the four key skills all businesses need in response to the ongoing uncertainty we've seen since 2019.
For questions about your business resilience and skills strategy, contact your local expert on the topic by finding a Hays office near you.
What COVID-19 revealed about the fundamentals of every business
In 2019, the world of work looked remarkably different. Organisations had priorities entirely unlike the ones they have today.
In the wake of a crisis, we learnt things change rapidly. Leaders across industries needed specific skills to come out the other side of this pandemic in the best form possible.
Since the pandemic, we've had more economic uncertainty as our supply chains and taxes fluctuate from changes to economic policies and human rights disasters. The ongoing crisis has highlighted key soft and technical skills crucial for businesses to manage both now and in the future.
I found there are four skills the pandemic and subsequent challenges have put under the microscope. To survive in our uncertain future, employers must invest in the skills in this article.
4 skills every business should have for greater resilience
1. Effective communication - gain employees' cooperation and trust
As teams have started working remotely, how we communicate across groups and the wider business has changed. Two-thirds (66%) of employers surveyed in the Hays 2020 Outlook survey in January this year cited communication and interpersonal skills as important.
Today's employees use multiple communication platforms: video calls, messaging apps and more. Employees need to communicate effectively cross-platform and understand what is appropriate for each piece of tech.
If you need to hire more candidates with good communication skills, look for cues like a strong introduction and open and engaged body language. If they are interacting with remote workers, try to speak to them via the technology your team uses most.
2. Project and change managers - fail to prepare, prepare to fail in business
Against a backdrop of constant transformation, the demand for project and change managers shows little sign of abating in the near future. Change and project managers need a solid understanding of IT systems and software. They also need confident people management skills to push forward when making hard decisions. You should also train all managers in core project management skills, not just those assigned to the project or change manager role.
Finding someone equipped to lead and manage change is crucial for our current and future world of work. Build these responsibilities into existing roles or consider assigning a new position to stay ahead of the curve.
3. Technological and digital literacy - upskill for a more dynamic workforce
Almost all workers need to use software to carry out their day-to-day jobs. And with fully-fledged IT teams, we could make the widespread shifts to working from home that we have done in recent times. Therefore everyone already has some degree of digital literacy upon which they can build.
Employers must consider digital literacy as a priority in their talent development plans. Make sure that any investment into new technology is coupled with sufficient training to support their workforce in getting the most out of it.
4. Adaptability - build for long-term flexibility over short-term growth
We're now living in the long-term reality that our world of work is in constant flux thanks to new technology, emerging trends and industry shifts.
To truly cope with change, you need adaptable and flexible staff at all levels who don't shy away from the possibility of disruption. Lead from the front by being receptive to new ideas, being curious, challenging the status quo and bouncing back when things go wrong.
Encourage diversity of thought across your business. When things are uncertain and constantly changing, the least helpful mindset for a team is a unilateral one. Varied and diverse opinions are key to staying adaptable.
If we can take anything from the last few years, it's lessons on the skills organisations need in a time of uncertainty. Skills are the new currency to pay for your business's survival, so ensure your organisation is honing in on the right ones.
Developing essential business skills for resilience: what's next for your business
Visit our Inspire Me in a New Era of Work hub to access a collection of resources that will help you to develop and hire new skill sets.
Please don't hesitate to contact your local Hays consultant if you have any further questions or concerns about hiring in the current climate.
About this author
Carmena Wood, Managing Director, North West region
Carmena joined Hays in 1986, working for Manchester's Accountancy and Finance team. In 2011 she was appointed to the role of multi-specialism Director for Merseyside and Cheshire. Carmena was appointed to the UKI Board in October 2017 and promoted to Managing Director for the North West Region in June 2018.