The team behind the team: Athlete development through positive pathways
6 min read | Maureen Lynch | Article | Workplace Diversity, Equity & Inclusion Corporate Social Responsibility Diversity, Equity & Inclusion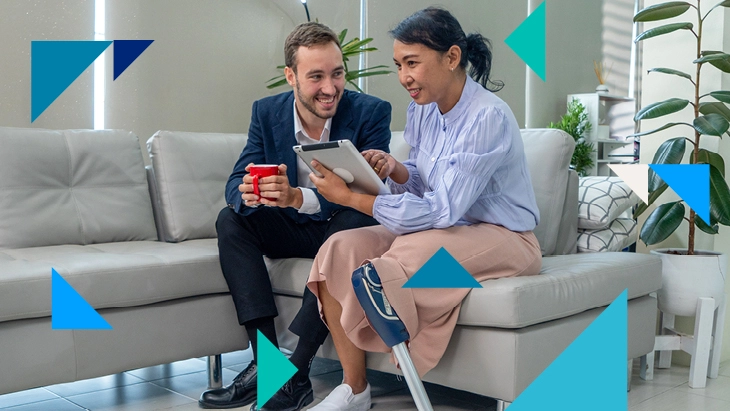 With a tremendous roster of proven athletes, Paralympics Ireland are set to impress at the 2024 Paralympics Games in Paris. But how do you continue to attract and develop the next generation of athletes going into Los Angles 2028 and beyond?
As part of our partnership with Paralympics Ireland, we spoke with Brian Hughes, Pathway Lead. We reflect on Brian's career journey with Paralympics Ireland since being appointed by Hays last October, and discover how athletes' experiences can become more inclusive – and enjoyable.

What is a Pathway Lead?
Brian: As Pathway Lead, a key part of my role is supporting our National Governing Bodies (NGBs), helping to develop their performance pathways for the next generation of Paralympic performers. This means growing a culture of development among our Para sport community, and collaborating with NGB's, creating more accessible entry points. A lot of my role is focused on Los Angeles 2028 and Brisbane 2032, trying to put systems in place for that long-term athletic development.

What might a typical day look like?
Brian: It varies massively day to day, which I really enjoy about the job; no two days look the same. It could range from meeting with NGBs – such as athletics, swimming, and cycling – and then meeting with the Irish Wheelchair Association, or Vision Sports Ireland, and linking up with the National Rehabilitation Hospital.
One of the main projects we're looking to deliver is the Paralympics Ireland recruitment campaign, where we're looking to find the next generation of future Paralympians. We're running a regional programme across all four provinces. An important aspect of this is athlete engagement, so creating a positive athlete experience, with them coming away and saying, 'that was a really good day'. Then there's the reengagement piece, where we're working with 16 different para sports, identifying clubs in their regions, and helping to grow Para sport in Ireland.

What motivated you to take up your role at Paralympics Ireland?
Brian: I've been working in sport for 10 plus years, with the last seven based in the UK. I was always passionate about applying what I learned there to the Irish sporting system, so when I saw the opportunity at Paralympics Ireland, I thought it was a really good fit for me.
I've worked as a physiologist in high performance sport, and this role offered an opportunity to move into the development space and to potentially impact more athletes. It was a new role, so I knew that there wasn't a huge amount that had been done in the space. It was a really exciting opportunity to develop Paralympics pathways, based on a person-centred approach to the athlete experience.

What does it feel like to be working with the team in preparation for the 2024 Paris Games?
Brian: You can feel the excitement – it's the pinnacle of Paralympic sport. It has to be supported, celebrated, championed. And we've got some really good athletes, with lots of success to build on.

How do you make your recruitment days a success?
Brian: There's a real focus on getting athletes to explore their own potential, instead of just being selected into a system. It's about matching the person with the development opportunity. Trying to predict future success from one day is nearly impossible. It's about getting people into sport, and into the right environment. And we know that in Para sport, development journeys can look very different, with different impairments having their own considerations.
How do you build accessibility into your recruitment programmes and wider work?
Brian: Focusing more on environments within different sports and understanding that there is no one-size-fits-all in this space, and that it's going to be very individualised. And also creating positive environments for athletes, working with NGBs to understand how clubs can be more inclusive and accessible.
At the minute, we're really trying to understand the barriers for athletes getting into Para sport, and what their journey looks like from the first point of contact, maybe at club level, right up through to potentially competing at international level. How we can work or collaborate as different organisations to best support that overall athlete experience is really important.

What can other organisations do to make wider workplaces more inclusive?
Brian: I think most organisations are moving towards being more inclusive and more accessible, with more diverse workforces. The best advice I can give is to try and just ask more questions. Being curious in this space is probably the best way to engage; most of my learning comes from asking people questions – such as those from the Irish Wheelchair Association or Vision Sports Ireland – and understanding what the barriers are.
Get in touch today to discover valuable talent networks, diversify your talent acquisition strategy, and improve your employee value proposition.
About this author
Maureen Lynch
Managing Director - Hays Ireland