How to build an even stronger employer brand for the new era of work
22 min read | David Brown, CEO of Hays US, Hays | Article | Change & Business transformation Industry insights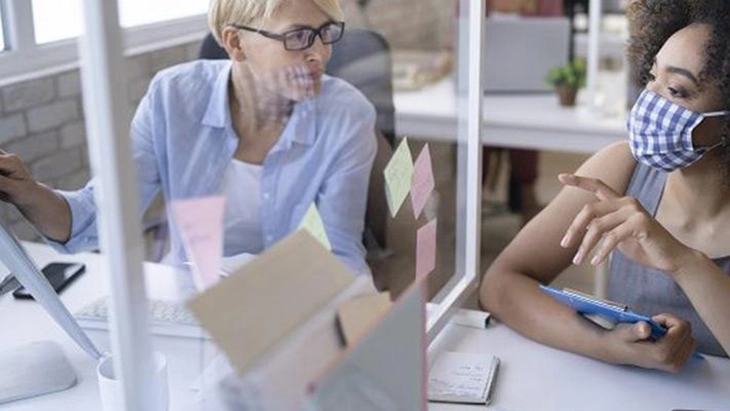 At the beginning of this year – which feels like a lifetime ago – the jobs market here in the US was on track to thrive with record low unemployment rates and a very bullish economic outlook. Then, out of nowhere, the COVID-19 pandemic hit and turned the global economy on its head. As a result, the hiring landscape has shifted significantly, with industries experiencing severe uncertainty, disruption and in many cases extinction.
As painful as this is in the current moment, we are starting to see promising green shoots of recovery appear. The number of new unemployment claims in the US have fallen since their historic highs earlier this year and the unemployment rate has now fallen to 8.4 per cent, our lowest number since COVID-19 hit. Although some industries and job areas remain incredibly challenging, many employers are starting to hire again and the majority of employers (68 per cent) in our upcoming salary guide said they believe the economy will continue to recover over the coming year and nearly a quarter (24 per cent) said they planned to grow their teams in the next 12 months.
However slow the economic recovery might feel to some of us, it's important to remember that the economy will improve in time and that companies will need to be ready if they plan to attract and retain the top talent which is (or should be) at the centre of every business's strategic plan. As our CEO, Alistair Cox says, "Yes, your products, your services, your technology, your processes are important, of course they are but, when it comes down to it, it's your people, both current and future, that will really set your organisation apart in the next era of work."
I firmly believe that now really is the time to put your 'people agenda' firmly back on the table. A big part of that is working to ensure you build an even stronger employer brand than you had pre-COVID; one that will enable you to attract and retain the very best talent in the market and ultimately allow your organisation to thrive in the new era of work.
How has the COVID-19 pandemic impacted your employer brand?
Your employer brand can be described as the "face your company shows its employees." So, the first step in ensuring you make it stronger is to assess and understand how the pandemic may have shifted how that face is perceived by your current and future employees. After all, over the past few months, your employer brand has been, and, in fact, still is, under intense scrutiny, with a whole host of elements being observed and judged from afar, such as:
How you responded to staff redundancies and furloughs throughout the crisis
How your company prioritised the health, safety and wellbeing (including financial wellbeing) of your people
How you helped your staff transition safely back into the workplace
How quickly your business model was able to pivot and how much creativity and innovation was demonstrated in the process
Your plans and actions already taken to future-proof the business for the new era of work
As a result of the pandemic, and in order to make your employer brand stronger for the new era of work, it's likely that key elements of it will need to change. In fact, many employer branding experts predict there will be a 'seismic' shift in how businesses present themselves to potential employees as a result of the COVID-19 pandemic.
Key to understanding exactly how the elements of your employer brand strategy might need to change, is recognising that the pandemic will have left many people – your current and future people included – with different attitudes to work, as I've written about before. For example, the crisis may have left many questioning their 'why'. This will mean organisational purpose may need become a more important part of your employer brand strategy going forward.
Others will now place more emphasis on their own mental health and wellbeing, having been awakened to the importance of flexibility and balance in their lives – which again, should be emphasised in your approach. Or, perhaps you need to review your benefits packages to ensure they are aligned to what people want in this entirely new era of work. But across all of this, you must ensure you have a razor-sharp focus on how you're living your organisational values externally and internally, and all decisions you make must be aligned to them.
Seven ways to build an even stronger employer brand
As I've said, a strong employer brand is absolutely vital in order to enable your organisation to attract and retain the right talent not just to survive, but to thrive in the new era of work. With access to larger pools of talent as a result of remote work and redundancies, a strong employer brand will enable you to more quickly and cost-effectively hire the right people for your organisation while keeping your existing top talent engaged and performing well.
So, with that in mind, here are a few ways you can ensure your employer brand is even stronger as we enter the new era of work.
1. Let your values as an organisation be your guiding light and your purpose shine through
I alluded to this point earlier. Nobody else 'does you' as well as 'you do', so it's important to have confidence in your brand, what it stands for, what it's trying to achieve and the values that make your organisation unique. These core values should guide your decision making from here on out. If they do, they will shine through and be plain to see for current and potential employees. It's that simple.
At Hays, one of our key values is: "Do the right thing". Time and time again, this mantra has proven to be somewhat of a 'North Star' for many of the decisions our organisation has made in the past and, indeed, has served our decision making well over the course of the pandemic so far – as our CEO, Alistair Cox explains: "We've been quite fortunate in that over the past years we've spent time constantly refining and refreshing our company values. One of them is "Do the right thing". This has been a powerful North Star in helping us make big business decisions. It allows us to step back under any circumstance, anywhere in the world, and ask ourselves what our moral compass is asking us to do. For example, do we need to invest in technology infrastructure in case our people need to work remotely? Yes, the right thing to do was to put that infrastructure in place, despite the cost. Should we take advantage of furlough schemes around the world? Yes, the right thing to do was to access them to help protect people's livelihoods."
It's also increasingly important for you as a business leader to understand that COVID-19 has changed people for good. I'm sure you'd agree that as a result of the crisis, the innate need to contribute something good to the world is growing within us all. This will undoubtedly impact the choices we make when considering employers. So, to ensure your employer brand is even more powerful in this new era of work, it must communicate your organisation's purpose powerfully too.
2. Build and nurture long-term relationships with your potential new hires
My second piece of advice here is to start putting even more effort and time into building and nurturing genuinely meaningful, long-term relationships with your potential new hires. Why? The uncertainty caused by the pandemic means that the talent landscape is looking somewhat different from what it was just a few months ago. As a result, the hiring process is likely going to be longer. Therefore, building long-term relationships with your talent pools is becoming even more important when constructing a strong employer brand strategy.
For instance, many professionals who may have been just about to start their job search prior to the crisis, have likely decided to stay put for the time being due to fears around job security. That's completely understandable, but it does mean your strategy will need resonate with those people. It also means you'll need to put the work in now in attracting them – it may take months, years even, for them to feel that they are in a place where they can finally join you.
3. Work on ensuring your company culture stays strong
As offices around the world gradually reopen, a large number of organisations still continue to work remotely or in a hybrid way. And this way of working is set to stay. Over the long-term, Salesforce found that 64 per cent of workers want to spend at least some hours at the office rather than working entirely remotely.
For employers, having teams scattered in a number of different locations means that ensuring your company culture remains strong is both key to happy, engaged and productive employees, and to a powerful employer brand in the new era of work.
So, you must do everything you can to ensure your company culture – the personality of your business – stays strong as we transition to new ways of working. From my perspective, as we go forward, the focus should be on building on a company culture that celebrates and appreciates learning, inclusion, wellbeing, compassion and trust. My colleagues have written a couple of blogs which I think you might find helpful here:
How leaders can demonstrate trust in their people during difficult times by Travis O'Rourke, President of Hays Canada
How to prioritise the wellbeing of your people in a hybrid workplace by Nick Deligiannis, Hays Australia & New Zealand Managing Director
If you're currently hiring and onboarding remotely, it's essential to do so in a way that lets your strong company culture take centre stage. It can't get lost just because you don't always have an office full of people. Here are a few things you could try to help you do that:
Conduct virtual office tours for candidates and new starters
Incorporate 'small talk' into your remote job interviews
Record short introductory videos with key team members as part of your induction processes
Run virtual coffee meet ups
Celebrate success
Create 'water cooler moments'
Do what you can to make everyone feel included, no matter where they are based
4. Review and audit your attraction and hiring funnel
A new era of work requires a new approach to attracting talented candidates. 73 per cent say that the process of looking for a job is one of the most stressful events in life, and the COVID-19 pandemic will do little to soothe those anxieties. With a shift to remote hiring as a result of social distancing measures, creating an effective virtual candidate experience will help your company stand out from the crowd and attract top talent in these challenging circumstances.
So, take some time to review and audit your talent attraction and hiring funnel in order to identify which parts might need changing. Here are a few questions you should ask yourself along the way:
How personalised is your current candidate experience? Does it allow your organisation to build long-term relationships with your talent pools? Are you treating your candidates and existing employees in the same way that you treat your customers?
Is your organisational purpose, values and company culture reinforced and communicated via each stage of the funnel, including in your job postings and during the interview process?
Does the wording and tone of your job advertisements need to change to reflect any new benefits packages you're now offering, or your renewed emphasis on growth, learning and development?
Do your hiring managers need further training and support to help them interview and onboard remotely?
Are you utilising the right new HR technology? Are your online and social media presences strong enough and yielding the right results? Could automation and artificial intelligence be used to optimise the experience, for example?
Are your talent attraction methods helpful in reaching an increasingly global, remote audience?
Are you regularly listening to your current employees to really understand what's working and what isn't?
5. Your HR department must not work in silo
While the issue of HR departments working in silo is not a novel one brought on by the COVID-19 pandemic, it is a long-standing problem, a problem that remote working and mandatory social distancing measures have made more pronounced. To build a truly powerful employer brand for the new era of work, it must be constructed by a diverse group of people, with a diverse group of skillsets.
Your employer brand strategy needs to be a cross-functional team effort. To be truly effective and to really resonate in our increasingly dispersed world, you must bring in expertise and perspectives from all areas, including input from both your CEO and your marketing department. After all, it's crucial that your employer brand strategy complements your wider marketing strategy – the two must work in tandem together to work at all.
For example, your marketing team can use their knowledge and expertise to help your HR team devise an employer brand strategy which meets your potential candidates where they are, using content that will really resonate with them. According to research, as a result of lockdown, 45 per cent said they were spending longer on messaging platforms, 44 per cent said they were spending more time on social media, while 12 per cent said they were listening to more podcasts. Are you using these platforms to reach out to people? Is your content suited to be read or listened to in bite-sized bits?
Which leads me on to my next point, the importance of strong employer brand content…
6. Get your employer brand content right
While employer brand content is an effective way to establish brand recognition among potential new employees, it's important to adjust your messaging as we progress through each stage of the pandemic in order for it to be effective. As LinkedIn advises in this webinar, use your employer branded content to showcase how your business is:
Supporting and managing current employees through changing times: Your people are your company's greatest asset. So, use your employer brand strategy as a way to present the values that both make your organisation unique and also help drive your teams towards long-term success. As I've outlined, even in difficult situations, it's important to preserve company culture, enable productivity and grow together as one. These themes should be clear to see in your employer brand content.
Leading with trust: Take the time to create employer brand content that conveys your organisation in an empathetic, sincere, transparent way. Establishing an effective employer brand strategy involves demonstrating strong leadership and conviction in a way that is meaningful to the talent pools you're trying to reach.
Adapting to drive business continuity: Tell your target talent pools how your organisation is reacting, and why you're reacting that way. Use your employer brand content to celebrate your proactive approach to adapting your business for the future to create confidence, security and reassurance among your target audience.
7. Engage your workforce from the top down
As I detailed in my previous blog, ensuring communication from leaders within your organisation is clear, authentic, transparent, human and empathetic is crucial, particularly at this time. But it is also key to building and communicating a powerful employer brand. Between developing strategy and growing revenue, your company's executive team are key drivers of innovation and entrepreneurial spirit from the top down – so they should be a loud voice in communicating your employer brand.
But it's not just down to the CEO. Your employees should have a voice too. So, empower them to share their experiences of working in your organisation across their personal social media channels. After all, your current people are your biggest advocates and they have the loudest voices, so utilise them.
Here at Hays, we encourage our people to share their professional stories on LinkedIn and other social channels. Using the hashtags #WeAreHays and #MyHaysStory, our employees share their own personal stories, milestones and accomplishments. At times of uncertainty, not only does empowering and trusting your people to share their stories externally help to drive engagement, but it's this kind of authentic, real employer brand content that will really resonate with the talent pools you're trying to reach.
Crafting an effective employer brand strategy requires strategic planning. If the COVID-19 pandemic has proved anything to employers, it's that recruiting and onboarding the most promising talent still remains an uncertain and changing process. Nonetheless, it's still absolutely a top priority, and it always will be.
It's people and their unique skills that will fuel our recovery and ensure a successful path in the new era of work. So, I urge you to invest the time now to ensure your employer brand is as powerful as possible, and you'll be in the best position possible tomorrow.
About this author
About David Brown
David is responsible for leading all Hays staffing operations in the US and is a 20 year veteran of the staffing industry. Prior to his role as head of Hays US, David worked in various roles in sales, sales management and executive management. David lives in Atlanta with his wife and three children.