The Team behind the Team #3
7 min read | Maureen Lynch | Article |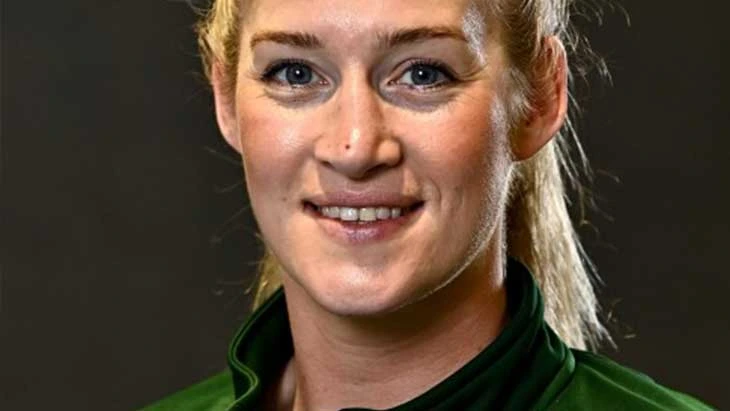 The team behind the team: putting Para Athletes in the spotlight
Irish Para Athletes are among some of the best in the world. Their sporting – and human –achievements deserve to be recognised, with the Paris Paralympics next year posing the perfect opportunity.
As part of our partnership with Paralympics Ireland, we talked with Fiona Scally, Communication and Commercial Executive. We reflect on Fiona's journey with Paralympics Ireland since starting her role six months ago, along with the part she plays in increasing the athletes' exposure, and advocating their sports ahead of Paris 2024.

What motivated you to take up your role at Paralympics Ireland?
Fiona: I did a Master's degree in sports journalism in 2018-2019, and I was working in social media management, but nothing in sport, so I was always looking for an avenue into the sports world, which was why this job caught my eye. It was a very interesting role to me, and the fact that we're coming up to the Paris Paralympics really piqued my interest, and I thought I'd throw my hat in.

How did you come across the job?
Fiona: The sporting world can be a hard one to break into, and I wouldn't normally have considered using a recruitment agency. I would have always thought it intimidating, and just adding another layer to the process. You think that your CV will just go into this office complex, fly around, and you'll never hear back. But it was the complete opposite of that, and my experience was great. It was so lovely, wasn't intimidating at all, and really set me up for the interviews, which I was quite confident going into. It was really positive, and I was pleasantly surprised by the experience.

Could you explain your role at Paralympics Ireland?
Fiona: At the moment, day to day, I've taken over the social media side of things; posting, maintaining all the channels, making sure that if there's events or anything going on that I'm on top of that. Of course, I'm in collaboration with the rest of the team, for example, there was recently a swimming championship in Melbourne where some of our swimmers were competing, and then there was an athletics competition in Dublin, and another one of the athletes competing in Seville. With that, it's just kind of like planning out to make sure that we're on top of what's happening, making sure it's going up on the channels, that the results are going out, updating the website, getting all that kind of stuff live.
It's very changeable, which is great. There's always something new and so much to do, whether it be long-game or more immediate. It's a really exciting role because whatever ideas you have you can bring to the table.

How has your sporting background helped support your role?
Fiona: Having played basketball for Ireland, and now playing rugby for Connacht, I have an understanding of what it means to be involved in high-performance sport. I can appreciate what the athletes are doing and why they're doing it from a sporting perspective which is helpful when working with them, especially around competition time.

How are you working with the team in preparation for Paris 2024?
Fiona: It's mainly long-term planning at the moment – and planning for change. I keep an eye on what's coming through the Paris 2024 website and social channels, and also consider the commercial side, with ticketing and hospitality.
There's a series of upcoming workshops, which will give us the chance to form positive relationships with the athletes, and they can know there's always space for them to communicate with us. That will make it a smoother transition when we go to Paris together as a team.

What does it feel like with the Games in Paris being so close now?
Fiona: We went over to Paris for a press briefing in October, and it was actually my first time over there. I think the Games there are going to be fabulous. They're really incorporating the city into it and it's going to be sustainable and beautifully French. It's going to be an exciting Games to go to.

Are the 2028 Los Angeles Games on your radar too?
Fiona: LA28 sounds like something far away, but conversations and planning are already in place, which is something I've found really interesting. Once Paris is over, you're already in that LA cycle. There's the social media aspect, which is always evolving; what are the best platforms to use? Why are we using this? Why are we using that? Should we have a TikTok account? You have to be constantly in tune with what's happening, or when it comes to Los Angeles '28, you'll be completely left in the dust.

Taking what you've learned from your journey with Paralympics Ireland so far, what can organisations do to become more inclusive?
Fiona: I think awareness and education are two important aspects, and that's a lot of what the partnership with Hays is about. I think that some companies can fall into the trap where they claim to be inclusive, but they're not necessarily following through on it. Actually seeing past the disability is a big thing. It goes beyond just having different policies, but thinking how we can put the right accessibility in place, so everyone is able to come to work and it's comfortable. Working for Paralympics Ireland has definitely helped me build that awareness and get immersed into the fine-tuning of the different athletes' needs. From the training to the individual challenges they face, there's so much more to it than you'd ever think.
Get in touch today to discover valuable talent networks, diversify your talent acquisition strategy, and improve your employee value proposition.
About this author
Maureen Lynch
Managing Director - Hays Ireland