The Importance of Middle Managers in Building a Diverse and Inclusive Workplace
5 min read | Yvonne Smyth | Article | Diversity, Equity & Inclusion Diversity, Equity & Inclusion Managing a team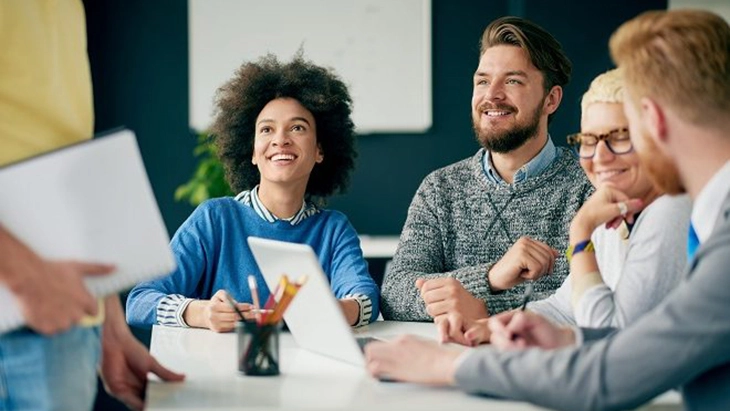 Learn how and why middle managers are integral to the success of your diversity and inclusivity agenda. Our Head of Diversity & Inclusion, Yvonne Smyth, provides insight into getting these key team members on board.
How can middle management drive diversity: Key insights
Senior leaders may be ultimately responsible for a company's diversity and inclusion (D&I) agenda, but without middle managers, leadership will be unable to communicate this at an individual level.
Leaders should engage the middle management tier in educating, communicating and monitoring D&I in their respective teams. However, this requires that middle managers themselves are aware of and support your D&I policies. To this end, as a leader, you should.

Check for bias patterns in how managers hire and manage members of their team. This can include obvious bias, such as gender or race, but also a range of subtler biases.
Assess how your middle management delegate work or give awards. Check for bias and discuss with the managers in question.
Support your middle managers in monitoring the dynamics within their teams.
Read on for further detail on involving middle managers in delivering successful D&I.
Contact Yvonne Smyth, Head of Diversity & Inclusion at Hays to take your interest further.
Middle management and D&I: Background
As a senior business leader, you will appreciate the benefits of diversity and inclusivity (D&I) in the workplace. You will also be expected to champion and support the changes in policy, process and behaviour needed to drive the D&I agenda within your business. Your role in this is crucial, but it's far from the end of the story. The nature and speed of change is also highly dependent on the level of buy-in and support across the entire workforce, but particularly from your middle management tier.
Middle managers operate at the coal face of the business. They are highly visible across all touchpoints and you should not underestimate their importance in successfully delivering change, particularly around D&I. Without engaging middle management in your D&I agenda, you likely won't gain the traction you need.
With this in mind, let's consider some strategies to include your middle managers in driving D&I progress?
Middle managers can influence D&I on a business-wide scale.
Change the way they approach hiring
The middle management tier is largely responsible for hiring and directly-managing the bulk of talent within your business. Therefore, they are key to embedding your D&I principles into all aspects of the business, in real sustainable terms. That is, provided that they fully understand and accept the importance of those principles.
Work with your middle managers to examine their existing hiring patterns. As I mentioned in my last blog, you should be on the lookout for hidden or unconscious biases that may affect hiring patterns. As well as obvious demographics like gender, age or race, there may be other factors such as personality type.
Have an open, honest and non-judgemental conversation about the reality or risk of bias in hiring. Ask your middle managers if and why they think these are happening. Importantly, clarify why bias needs to be addressed. From here, you should then work together to develop revised guidelines and procedures going forward.
Look closer at managing and developing talent
Explore how your middle managers oversee talent on the day-to-day within their teams. Do any patterns emerge which might stem from bias? To make this assessment, you may need to attend team meetings or performance reviews. You should also objectively assess the manager's selection criteria and processes when it comes to awarding work and giving promotions. Of course, you should also invite feedback from team members themselves to gain some greater insight. Make it clear that these conversations are confidential and hold them in a safe space.
From this position, you are far better placed to identify any biases and educate middle managers around negative impacts. Discuss this in terms that will resonate with middle managers as real problems – lack of innovation, lower employee morale and ultimately poor retention.
Improve awareness around bias within their own teams
A Middle manager's responsibility is not just to manage their own potential biases. They should also monitor the way that their team members interact with each other on a day-to-day basis.
In many work settings, employees have a tendency to enter into cliques organised around similarities. Anyone who is "different" can end up feeling isolated. This can happen in teams of any size and can impact on individual team members' mental wellbeing. This affects comfort and confidence. They are likely to speak up less, and you miss out on the benefit that diverse perspectives can bring to the company.
Middle managers must be attuned to the specific dynamics within their teams. As a leader you can educate them on spotting signs of stress, withdrawal and even workplace bullying. Support can be provided by peer learning and external training as well, from yourself, wider leadership and HR.
Middle managers should also be encouraged to inform new and existing team members on the business' D&I commitments. All team members should be invited to offer their own ideas and feedback if they wish. By building an ongoing conversation, middle managers can help senior leadership ensure that the wider workforce is involved in D&I. Done right, every member of every team should understand and support inclusivity as part of your organisation's DNA.
Middle management and D&I: Next steps
Hopefully this advice will help you work in closer and more effective collaboration with your middle managers, in order to really make your D&I vision a lived reality. Together, you can create an environment in which every employee feels valued and engaged.
You can view some more of our Diversity and Inclusion content below:
About this author
About Yvonne Smyth
Yvonne is the Group Head of Equity, Diversity and Inclusion for Hays plc, with over 23 years professional recruitment experience. She spearheads Hays' commitment to promoting and creating more diverse workforces and inclusive workplace cultures. Recently Yvonne was featured in the SIA 2019 Global Power 150 Women in Staffing list, which recognises female leaders and influencers in the global market space. Prior to joining Hays, Yvonne initially trained and qualified as a litigation lawyer with international law firm Norton Rose Fulbright.