11 tips to relax nervous candidates with conversational interview techniques
5 min read | Chris Dottie MBE and Susie Timlin | Article | Recruiting Conducting interviews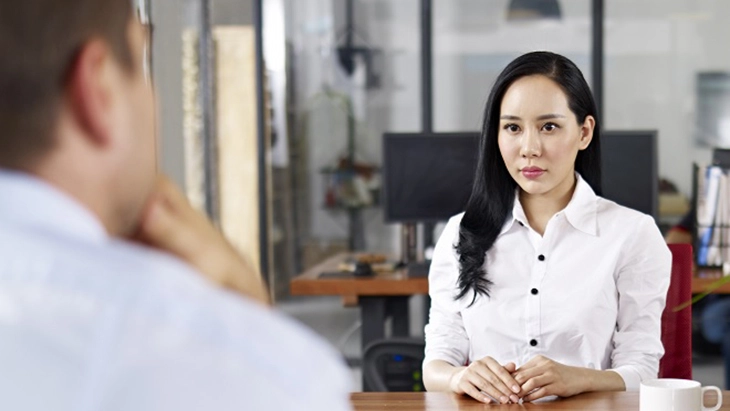 Learn what makes candidates nervous and how to help them relax in a conversation focused interview. Chris Dottie MBE, Managing Director, Hays Spain and Susie Timlin, Chief Operating Officer, UK Government Investments share their advice.
Nervous candidates in a conversational interview environment: Key Insights

Candidates feel nervous when they are uncomfortable or under prepared
Nervous candidates can underperform in interviews they are potentially a perfect fit for
Conversational interview questions can help candidates feel calmer and share important information
Investing time in creating a safe interview environment can help you find the perfect candidate for your role
Keep reading to learn about conversational interviews and what to say to someone who is nervous about an interview.

What makes a promising candidate nervous during an interview?
It's difficult enough learning how to start an interview conversation as interviewer. When you're faced with nervous candidates, it's even harder.
If these nerves become unmanageable for the candidate, they won't feel confident in selling their skills and experience to you.
Nervous candidates may overcompensate, or on the flipside, struggle to come out of their shell at all. Ultimately, a nervous candidate is more likely to walk away from the interview having had an unpleasant interview experience. This outcome is not good for your employer brand or the candidate's confidence.
Therefore for the sake of your talent search and the candidate's interview experience, you must put them at ease.

What are conversational interview techniques?
Some hiring managers accidentally sink into a quick-fire quizzing session to move the interview along. These quick questions will make the candidate feel intimidated regardless of how personable you are.
Instead, use conversational interview techniques. Start with easy questions, then go onto the more tricky ones. Keep your questions open-ended and ask them one at a time. Be careful not to cut across other interviewers in the room so that the candidate doesn't feel bombarded.
Harvard University identified that people who ask questions are better-liked by the person they are having a conversation with. Use follow up questions to keep the conversation going and help candidates elaborate on their experience.

7 ways to make your interview feel less like an interrogation and more like a conversation
Get ready for your interview with 7 tips to put promising candidates at ease.
1. Give your candidates extra information before the interview:

Share information about the interviewer before the interview. Background information about the people they are about to meet will help the candidate to feel more relaxed.
You can also give the candidate information on the company in general, including its culture, values and mission. The more information a candidate has, the more prepared they will feel. And a prepared candidate will be better at putting their best selves forward.
2. Create breaks for candidates to calm their nerves
It's easy for candidates to picture you, the interviewer, as a mysterious, all-powerful decision-maker. Give candidates a short break after the initial hello for them to compose themselves. These breaks help candidates keep things in perspective and make the interview feel like a relatively natural conversation.
3. Reassure candidates with non-verbal communication
According to one well-known study, our body language accounts for up to 55% of our communication. This statistic suggests that more than half of the conversation you have with the interviewee will be non-verbal.
Therefore, relaxing your body language can help candidates feel at ease. Even simple things like facing the candidate and smiling can make a big difference to how the interviewee perceives your company.
4. Don't interrupt the candidate
Not only does interrupting someone come across as rude, but constantly interrupting can make a conversation feel jilted and even awkward. So, even if the candidate is speaking for too long, try to wait for a natural break in their conversation.
If you do blurt something out while the candidate is speaking, apologise and wait for them to conclude. Remember, you're trying to impress the candidate too. Any good conversation is a two-way process, and needs to flow seamlessly.
5. Start your questions and answers with a positive affirmation or agreement
Use openers such as "Great point" to humanise the interaction between you and the interviewee. Agreeing with your candidate will help the candidate to feel safe enough to reveal more and more information.
6. Ask follow-up questions
Use occasional clarifying questions like "I hope I've explained that clearly?" to prompt your candidate to ask more questions. Doing so will demonstrate that you relate to the candidate and that they have what you're looking for.
7. Be genuine when listening to the candidate's answers
Show humility and that you have a high EQ (emotional intelligence). Don't just read off a script or recite previously prepared interview questions word-for-word. By not genuinely listening, candidates will feel that they might not be listened to in their future role at your company. It's easier for the candidate to warm to you if you are yourself.

Building better interviews: what's next for your business
Industries across the globe are facing skills shortages. As a result, it's more important to impress promising candidates and help them put their best foot forward. Doing so, you'll uncover hidden gems and be less likely to receive rejections to your job offers.
About this author
Chris Dottie MBE Managing Director, Hays Spain
A native of Liverpool, Chris joined Hays in 1996, working in the UK and Portugal before arriving in Spain in 2002. He is Managing Director for the Hays group in Spain, with offices located in Madrid, Barcelona, Valencia, Bilbao and Seville.
For the past four years Chris has served as President of the British Chamber of Commerce in Spain. He currently serves as a Non Executive Director on the Board of the British Chambers of Commerce. Chris was awarded an MBE for services to British business on the New Years Honours List in 2020.
Susie Timlin Chief Operating Officer, UK Government Investments
Susie is Chief Operating Officer (COO) at UK Government Investments (UKGI). UKGI's purpose is to be the UK government's centre of excellence in corporate finance and corporate governance. They work across government on some of its most interesting and complex commercial tasks.
In her role as COO, Susie works to ensure that the business has effective operational management. Timlin ensures UKGI are able to hire, develop, manage and remunerate their people in the best way possible.