content_multi_hybridworking_cand_DAC_MainRegion
YOUR GUIDE TO EMBRACING HYBRID WORKING


---
The workplace we will be returning to will no doubt look very different to the one we left, but this won't be the only aspect that will have changed. The months working in lockdown for many professionals means priorities around work-life balance may have shifted, and as organisations adapt to a world after lockdown, hybrid working models will likely be put into place for the foreseeable future.
Our guide offers advice to help you understand some of the potential challenges working in a hybrid environment can present, and provides practical suggestions to mitigate these obstacles to help you make the most of the opportunities that a hybrid working model can bring.
Download your guide to find out:
The benefits hybrid working practices can provide for employees
The challenges of working as part of a hybrid team and how they can be overcome
The key principles you should follow to get the most out of hybrid working practices
content_multi_transition_toolkit_RHmodule
Recruiting in the New Era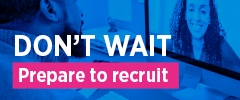 Sign your team up for Recruiting in the New Era, our free training package which will help prepare your hiring managers to adapt to hiring in a new world.
Find out more
content_multi_find_out_more_RHmodule
Find out more
Salary guide
Benchmark salaries by using our comprehensive digital salary guide.
---
Career advice
From CV tips to interview advice, our career advice will assist in your job search.
---
Search for jobs
Find your next career move with our jobs search engine.
---
Recruiting now?
Search through hundreds of candidates to find your next employee or employees.
---
View our blogs
Take a look at our blog section for further insight and advice.