content_multi_teen_turn_value_influence_MainRegion
The value of influence

Teen-Turn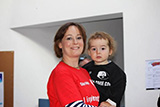 My name is Niambh Scullion, I am the co-founder of CoderDojoGirls and the CoderGirlHackDay. Since I have been a CoderDojo mentor, I have really come to understand and appreciate the value of mentorship.
I have seen at first-hand how a child's technical vision can be realized with a small bit of support from mentors. After many years in the industry, I have come to also really appreciate mentorship in my own career and I joined the MinT steering committee. MinT is a platform for connecting mentors with mentees. I currently mentor four amazing women.
My journey into the world of tech was not the typical journey. I went to an all-girls school in a small town, and exploring career options such as engineering was something that was not really exposed to us. I followed a fairly traditional path and found myself studying nursing. To be honest, I knew very early on Nursing was not for me. Shortly after qualifying as a nurse, I started looking into changing careers.
I was lucky this time, I knew loads of great engineers, and engineering students and they helped me along my path. I visited them on campuses, met lecturers, and got the low down from friends working in the industry.
My real tech journey started when I became a Computer Application Graduate in Dublin City University (DCU) in 1997. After many years searching, I found myself. To this day, I still love DCU. The team of CoderDojo mentors in DCU have been hugely supported by DCU since we started in 2011.
Joanne Dolan is a contributor to the CoderGirlHackDay and, like myself, is passionate about encouraging young girls into technology, hence our many collaborations. A conversation about giving girls' access to Internships with tech companies led to Teen-Turn.
You see the girls in CoderDojoGirls are lucky, the girls have great access to industry. As members of CoderDojo they have been fortunate to meet Irish tech leaders.
Catriona and Vanessa were lucky to get an amazing internship in Openet Technologies. They were given two weeks to solve a tech problem, and got the opportunity to present to staff. They had a great time, and the team in Openet really looked after them. Given the distance to the company, Openet paid their transportation costs.
However, Joanne and I were keenly aware that access to Internships and the Tech Industry does elude many school going girls. In order for young girls to identify themselves with tech and visualize themselves working in the industry they need access to role models. We want to change this, with Teen-Turn.
Teen-Turn is initiative that gives girls from DEIS schools, or areas where access to third level education is low. The girls get to spend between two to four weeks in industry during the summer. The aim of these placements is so girls can visualize themselves working in the environment.
We are hoping that the positive influence of the placement can shape the girls third level choices, and fulfil the need for much needed technical graduates in Ireland as well as help bridge the gender gap that exists within the tech industry.
Where possible, the girls will be mentored during the placement by a female mentor. The benefit of this, is that the young girls can relate to these women. By involving the young girls in projects, the mentors will be able to stimulate an interest in learning more and engaging more with tech.
The cost to a host company, would be little more than covering girl's transportation and lunch. While the team at Teen-Turn will provide company representatives the means to negotiate the guidelines required to make possible placing secondary school aged girls within a workplace.
Teen-Turn is being launched this summer and we would love to hear from companies who would be interested in getting involved.
content_multi_teen_turn_navigation_RHModule
content_multi_teen_turn_value_of_influence_RH_module
The value of influence
Over the years, I have really come to understand and appreciate the value of mentorship and seen first hand the changes it can make to a child's future.