content_multi_careernsightssnapshot_DAC_MainRegion
CAREER INSIGHTS SNAPSHOT

---
As business leaders and professionals look to the future and decide the changes they need to make to their ways of working, what lessons from the COVID-19 lockdown can we learn and take forward into the new era of work?
A lot has happened since May when we last surveyed employers and employees to discover their sentiments towards the Irish economy, employment outlook, skills needed and career prospects. So, in early July, we asked almost 1,500 professionals their views on these topics to provide an up-to-date view of how organisations and their employees are faring as they consider their next steps in the new era of work.
Download our latest snapshot to find out:
How the outlook on Ireland's economic recovery has changed
Insight into when employers plan to return their teams back to the workplace and whether employees are happy to return
Where hiring activity is highest as well as the skills most highly sought after
The job aspects most important to employees, and why employers must focus on their organisation's purpose
content_multi_transition_toolkit_RHmodule
Recruiting in the New Era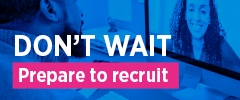 Sign your team up for Recruiting in the New Era, our free training package which will help prepare your hiring managers to adapt to hiring in a new world.
Find out more
content_multi_find_out_more_RHmodule
Find out more
Salary guide
Benchmark salaries by using our comprehensive digital salary guide.
---
Career advice
From CV tips to interview advice, our career advice will assist in your job search.
---
Search for jobs
Find your next career move with our jobs search engine.
---
Recruiting now?
Search through hundreds of candidates to find your next employee or employees.
---
View our blogs
Take a look at our blog section for further insight and advice.