content_multi_candidate_Experience_MainRegion
Candidate Journey Diagnostic


The Hays candidate experience diagnostic is an online interactive tool to help organisations improve their candidate experience. The assessment tool allows you to evaluate your candidate experience against best practice, from planning stage to departure, and then automatically generates your personalised report on how to take your candidate experience to the next level.
The bespoke report will benchmark your candidate experience score to help identify:
1. What makes a winning candidate experience
2. How to take your experience to the next level
3. Recommendations on an effective candidate attraction strategy
Overall, this report is designed to help you attract the right talent better, faster and more cost effectively by helping you to achieve a winning candidate experience.
Complete this assessment to get your candidate experience score and bespoke recommendations. It will take you approximately 15 minutes.
Please note the survey does not work in Internet Explorer; Chrome is the best option. All insights provided from this survey are Ireland specific.
content_multi_SG19_survey_RHModule
Ireland Salary & Recruiting Trends Guide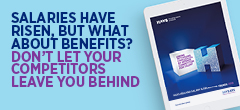 This year's guide is based on survey findings from almost 2,500 respondents and includes salary data split by profession and Irish region.