content_multi_CA_changing_career_MAinRegion
Changing careers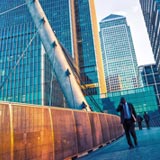 For those who no longer feel stimulated by their current job, a change of career may hold a certain allure.
For some, if not most, it can prove to be a fulfilling and rewarding move. However, there are pitfalls to avoid in order to make the transition as smooth as possible.
Making the right choice
You may be certain you want to leave your current employment, but a career change is a dramatic, life-changing decision - one you cannot afford to take lightly.
Just because you're feeling under the weather - perhaps you were overlooked for promotion or you are disillusioned by the industry you are in - it does not mean that you are ready to make a drastic decision that could affect the rest of your life and your livelihood.
Career advisers often talk about the importance of evaluating your life and analysing your strengths and weaknesses.
You have to ask yourself a whole host of questions: What do want from life? Where do you want to be in five years' time? Can I afford to do this? Am I being realistic?

Money matters
Financial implications are one of the fundamental issues you need to take into account when considering a career change.
You have to be honest with yourself and make sure it is what you really want as there will be a lot of personal and financial sacrifice involved.
Circumstances may prevail, which could make it difficult to for you to fulfil your ambitions.
If you are planning to do further study, you might need to apply for a Career Development Loan (CDL). If, on the other hand, you plan to work your way up the career ladder, the chances are you will have to take a pay cut.
Whatever the circumstance, it is easy to underestimate the daily costs involved - transport, living and educational expenses for starters.
It is also important you talk to family and friends and explain to them why you have decided to do what you are doing and how important it is they support you on an emotional level.

The waiting game
Changing career is not something that happens overnight. It is more often than not a painstaking process that tests your patients to the maximum.
Developing an action plan and setting goals and targets is important as are making note of small achievements and giving yourself deadlines.
Money will begin to run out and you will no doubt encounter low moments, but as long as you have weighted up the pros and cons and evaluated your personal circumstances, then you will give yourself a better chance.
Once you have handed in that resignation letter, you must be firmly committed to the cause. There is no turning back.
Things that you previously took for granted may no longer apply. You may be doing a full-time course, which will need your undivided attention - weekends will now be taken up with study and socialising will take a back seat.
You need discipline, stamina and determination in spades as you will need to be able to keep up the momentum when the going gets tough.

Anything is possible
At the age of 47, George, an unemployed French polisher with no qualifications who liked to dabble with words in his spare time, decided to do a one-year HND course in advertising and copywriting in his hometown of Falmouth, Cornwall.
Eight months into the course, he was offered a two-week work placement at top London advertising agency, Saatchi & Saatchi.
Unbeknown to his new colleagues, his lack of funds meant that to fulfil his ambition, his resident bed for the fortnight was a park bench.
Despite this, he managed to write an award-winning radio advert. He was offered a job, shot to fame and his story made the papers.
There are other inspirational stories such as George's and they serve as reminders to us that determination and commitment can take you far.

Informed choice
Before, during and after your decision to change careers, you will experience a mixture of emotions – fear of the unknown and liberation at the thought of moving into an exciting new role. Make sure you are not making the move for the wrong reasons.
Quitting your job as a result of suppressed anger or negativity is a recipe for disaster - as is short-term monetary gain.
Your decision should be thought through and researched - you should consult family members, partners and experts, if necessary. Ask yourself:
What are the financial implications? Is this viable?

Adopt a 'can-do' approach, there's no time to feel like a victim

Develop an action plan and stick to it

Face your fears - talk to friends, family and experts

Never lose sight of your goals

Grab hold of your own destiny - no one will do it for you!
The road ahead will be fraught with pot-holes but you will be invigorated by the experience and the new challenges that lie ahead... soon the struggle will be but a distant blot on the horizon and a new 'you' will emerge much to the envy of your family and friends.
content_multi_CA_on_the_job_RHModule
Content_multi_job_search_RHmodule
Job Search
Looking for a new role? Search here for your ideal job or get in touch with one of our expert consultants.
content_multi_find_out_more_RHmodule
Find out more
Salary guide
Benchmark salaries by using our comprehensive digital salary guide.
---
Career advice
From CV tips to interview advice, our career advice will assist in your job search.
---
Search for jobs
Find your next career move with our jobs search engine.
---
Recruiting now?
Search through hundreds of candidates to find your next employee or employees.
---
View our blogs
Take a look at our blog section for further insight and advice.