Four reasons why employees stay with a company for decades
6 min read | Alistair Cox | Article | CEO News Managing a team People & Culture Retention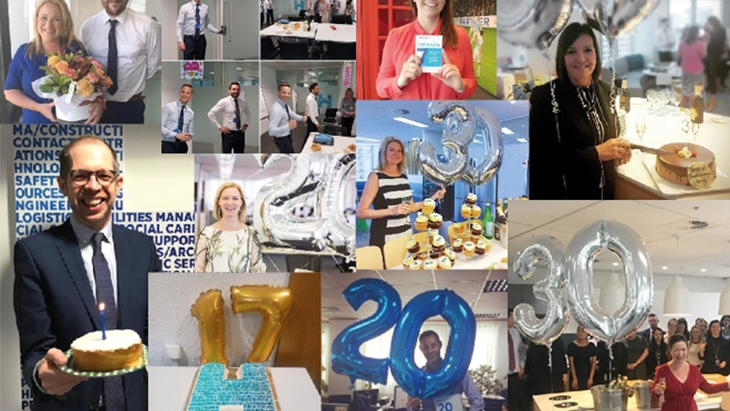 The current trends in the world of work might not favour staying long term within an organisation, but it has some great benefits. Find out our CEO Alistair Cox insight on what makes employees stay for decades.
What makes employees stay: Key insights
A sense of purpose is pivotal in making employees stay within an organisation long term. Knowing that their work makes a difference, whether big or small, is a huge motivator to remain in a workplace.

Talented employees are also more likely to stay with an organisation for a long time when they don't feel bored at work. However, avoiding boredom is a two-way street. Employers should push their employees outside of their comfort zones while employees also need to seek out new opportunities within their role.

As social beings, we thrive on human connection. So, another reason why employees stay with a company is the people. The daily interactions that employees share with each other builds roots for great teamwork and creates a strong sense of 'we're all in this together'.

A sense of belonging also affects employee retention. When people feel proud of what they've been a part of, they become emotionally invested and often want to continue building on that work to see it succeed.
Keep reading to discover more detail on the four reasons why employees continue with a company long term and why it's relevant that employers focus on these now.
Long-term employees: Background
Here at Hays we recently celebrated our 50th anniversary. It's a long time to be doing the same thing: helping people grow their careers and companies flourish with the right talent. I have to say, this milestone has been one of the proudest moments of my career so far. I know many of my colleagues feel the same and so they should.
Our achievements as an organisation are all down to our people, both past and present, many of whom have been with us for decades. Not many organisations in this day and age can say they have employees who have been with them for 10, 20, 30 or even 40 years. It's admittedly a little ironic that a business that makes its money by helping people find a new role employs thousands of people who've worked for the same employer for so many years.
But, what is it that makes employees stay with one business for so long? We hear all the time that people these days want to work in a more fluid, project-type way with multiple employers. After all, work is such a big part of our lives and we have more options open to us now than we ever have done before. So, in order to stay with one employer for such a long period of time, the opportunities and company culture have to be right.
The most powerful reasons why employees stay with an organisation
1. Feeling a sense of purpose
There's nothing more motivating than getting up in the morning knowing that you can and will make a difference, no matter how small that difference might be. People stay with organisations in the long term because working for them makes them feel good, about themselves and the wider world around them.
A huge driver for me personally is that I have a clear and profound purpose to what I do, and what we do as an organisation. I worked out that in my decade as CEO, we have placed around 4 million people into their next job. That's massive and it's really compelling. Every day we as a business are transforming lives and that's powerful.
2. Not being bored
We've all felt bored and unmotivated at work from time to time. This discontentment really starts to cause a problem when the feeling becomes consistent and permeates into other areas of our lives. It's at that point when most people will think about moving on.
So, another reason I think employees tend to stay with an employer for a long time is when they don't feel bored at work. However, avoiding boredom at work is a two-way thing. Employees who don't allow themselves to get bored and their employer doesn't let them either are the winning combination.
A good employer should constantly push its employees out of their comfort zones and away from the familiar. Similarly, employees shouldn't simply sit back and wait for opportunities to come to them; instead, they should actively seek them out.
3. The people
I think our colleagues, those people we often spend more time with than we do with our own families, have a huge bearing on our happiness levels at work.
Long-serving employees tend to enjoy and get fulfilment from the other people they work and interact with every day. After all, it's often these relationships that have the biggest impact on our working lives.
We all know someone (probably many) within our own organisations that we've learnt from, aspire to be, respect, admire and have fun spending time with. It's these bonds, solidified over time, which often make it harder to leave an organisation and create a sense of camaraderie. These bonds also form the roots for great teamwork and future thinking, uniting the team in a feeling that we're 'all in it together'.
4. A sense of belonging
This point again comes down to how work makes us feel. I think people stay with organisations for years because they feel part of the story. They feel part of something they've helped create, and they're incredibly proud of that.
They're emotionally invested, and to them, it's not just a job – it's a part of their lives and their own life story. And, just like every other part of their lives, they want to see it succeed.
So, they feel compelled to be a part of the next chapter, and the chapter after that, and the chapter after that. So, those are my four points on employee retention. You'll notice that all of them touch on how work makes us feel, not on the material things such as money and benefits. There's no getting away from the fact that those things are important. However, what's more important in my mind is that I work for an organisation that makes me feel good, fulfilled, valued, and excited about the future we can create together.
About this author
Alistair has been the CEO of Hays, plc since Sept. 2007. An aeronautical engineer by training (University of Salford, UK, 1982), Alistair commenced his career at British Aerospace in the military aircraft division. In 1991, he completed his MBA (Stanford University, California) and returned to the UK as a consultant for McKinsey & Co.
In 1994, he moved to Blue Circle Industries as Group Strategy Director. Four years later, Alistair assumed the role of Regional Director responsible for Blue Circle's operations in Asia, based in Kuala Lumpur in Malaysia.
In 2002, Alistair returned to the UK as CEO of Xansa, a UK based IT services and back-office processing organisation. During his 5 year tenure at Xansa, he re-focused the organisation to create a UK leading provider of back-office services across both the Public and Private sector.