Four traits I look for in my future leaders
6 min read | Alistair Cox | Article | CEO News Leadership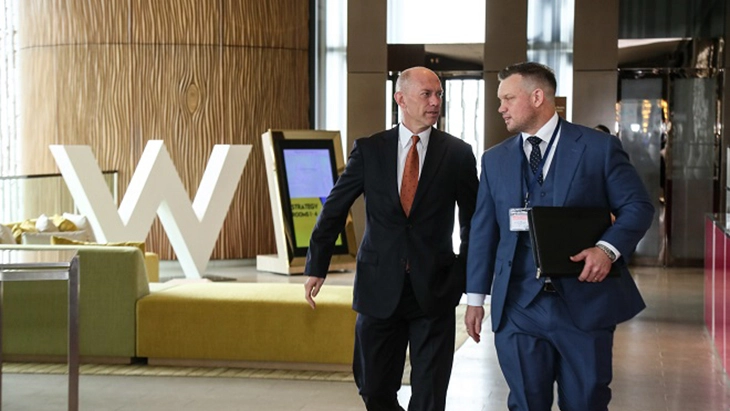 Gain insight on how to spot the best talent in business leadership. Our CEO Alistair Cox shares his insights on the characteristics that make a good leader and the positive impact effective leadership can have on your business.
Traits of a leader in business: Key insights
The ability to communicate and inspire are traditional leadership skills still required from any successful business leader. Especially as the digital revolution has shaped the world, it's more crucial than ever that leaders are able to connect with their team members effectively.

Entrepreneurial mindset isn't just for leaders who want to set up their own business. Leaders who adopt a business owner mentality within a company demonstrate their confidence, innovation, and long term goal focus.

Evolve and transform one's role organically to match business needs and their skill set is another valuable trait in a leader. This change is often a result of a proactive attitude. Evolution is inevitable for every business and if it happens without being forced, that's a powerful position to be in.

Excellent collaboration skills are a must for successful leaders. Being able to identify the strengths within the team and pull them together in harmony will only benefit the business.
Keep reading for more detail on each leadership trait of effective leaders and a selection of personal anecdotes from the business world.

Alternatively, learn more about our tailored executive appointment services for businesses.
Considering future leadership for businesses: Background
Responsible business leadership isn't just about ensuring your company operates effectively day-to-day. It also always involves laying foundations for success long after you depart. Here at Hays, we've now officially entered the annual succession planning season.
Each year, my senior management team and I step back and take stock to assess how our business will be led in the future – and importantly, by whom. It's a process we're all hugely passionate about. We realise and appreciate the importance of planning our future talent pipelines and it never fails to spark debate around the table. Every year, each of us highlights lessons we believe have been crucial to Hays' success and which of our company's rising stars have best embraced them.
This year, I thought it would be useful to share these lessons with all of you – so here are some of the key traits that my business looks for in our future leaders.
1. Traditional leadership skills will always be important
After years of succession planning sessions, the core skills we look for have remained largely the same. The ability to communicate and inspire are still fundamental to any prospective leader we consider.
While this was also the case when I first began my career, today we operate in a different world. In my younger years, leaders had limited means to communicate with their staff. However, today's digital channels have produced a wide range of new ways to exchange information. This change has made it increasingly important for everyone, senior or junior, to have their voices heard.
It's therefore never been more important for leaders to be able to connect with their people in a way they can relate to and be motivated by. They will have to be able to form this connection regardless of whether they're face-to-face, around the boardroom table, or online.
2. Attitude is almost everything
It's never been clearer to me that many of our emerging leaders thrive thanks to an entrepreneurial mindset. There's a common misconception that budding entrepreneurs will only flourish in a startup or by setting up on their own. However, I've seen first-hand that a global business can nurture entrepreneurial spirit as well as any start-up.
I'm consistently blown away by the entrepreneurial attitudes of Hays' regional directors. They aren't just chasing targets for this quarter, they have a business owner mentality and are focused on the bigger picture. They are concerned about how they can help our revenue grow over the next decade by discovering new revenue streams, harnessing the latest technology and building our own world class teams.
This entrepreneurial approach isn't just restricted to senior management – many of our offices are structured to enable each consultant to behave as entrepreneurs. Operating under intense local competition, our consultants demonstrate everyday entrepreneurial energy. They are challenged to think commercially about growing their market share, differentiating themselves from their competition and constantly improving the customer experience. This is what keeps them awake at night.
The recruiters who genuinely see themselves as the Managing Directors of their own mini-recruitment company are the ones who succeed over the long term. They sit within the umbrella of a global group with the brand, systems, processes and support that that brings but operate with that entrepreneurial mindset.
I'm certain that our future succession planning sessions will be focused on those people who have the confidence to effectively run their own business within mine.
3. The best talent will shape their own roles
One thing I've noticed recently is that the types of roles that are commanding the most attention are changing and evolving. Often, these are roles that don't have a specific job description but instead have organically evolved as a result of a proactive and inquisitive attitude.
For example, as our business adapts to developments in technology we have seen the rise of digital change agents, who have largely adapted their roles organically. These people are passionate about change and willing to step outside of the confines of their job description. They've often had the greatest impact on how successfully an initiative is rolled out. Empowering these 'change agents' has enabled them to pick up and drive new initiatives – as well as passionately communicate the benefits to their colleagues.
These people believe that the status quo can always be improved and that change isn't something to be feared. They mould their roles to fit where the business needs to be headed and where their skills lie.
As I said, there's been no change to their job spec or a promotion. These employees simply anticipated the needs of the business and shaped their own roles accordingly. If you can build a critical mass of such agents, your organisation can reach a tipping point where natural evolution becomes self-fulfilling as opposed to forced. That's a powerful and exciting place to be.
4. The best leaders are collaborators
Lastly, at a strategic level, we've always known that we can't always do everything ourselves. So, the ability to work in partnership has always been hugely important to our company.
From a strategic perspective, effective collaborations means ensuring we work with best-in-class partners, even those who some might consider indirect competitors. This strategy ensures that we can give our clients and candidates the best possible experience and outcome. But this collaborative approach isn't confined to delivering tangible business objectives.
Collaboration is also a trait I value greatly in prospective leaders. Here at Hays, we actively look to foster a collaborative attitude amongst all our rising stars. Identifying and pulling in all the strengths of your team can only benefit your bottom line. It's also engaging and empowering to recognise your employees' individual skill sets – and the difference this can make to results.
As the CEO, I must constantly look to see what is best for the whole group as opposed to just one part of it. So, it makes life a whole lot easier if your key leaders look at issues the same way, even when sometimes a solution may not work in their personal best interest. It's not easy to achieve, but very powerful if you do.
Modern business is evolving at a rapid pace and in the coming years our leaders will rise out of increasingly diverse teams. They will bring a wide range of skills that are only just emerging today. But, in my opinion, confidence, proactivity and determination will remain the building blocks of any aspiring CEO – alongside a lot of hard work.

For more expert advice for employers, take a look at our market insight blog.
Looking for future leadership: Next steps for your business
About this author
Alistair has been the CEO of Hays, plc since Sept. 2007. An aeronautical engineer by training (University of Salford, UK, 1982), Alistair commenced his career at British Aerospace in the military aircraft division. In 1991, he completed his MBA (Stanford University, California) and returned to the UK as a consultant for McKinsey & Co.
In 1994, he moved to Blue Circle Industries as Group Strategy Director. Four years later, Alistair assumed the role of Regional Director responsible for Blue Circle's operations in Asia, based in Kuala Lumpur in Malaysia.
In 2002, Alistair returned to the UK as CEO of Xansa, a UK based IT services and back-office processing organisation. During his 5 year tenure at Xansa, he re-focused the organisation to create a UK leading provider of back-office services across both the Public and Private sector.