content_multi_withrecruiternewera_DAC_MainRegion
YOUR GUIDE TO WORKING WITH YOUR RECRUITER IN THE NEW ERA OF WORK


---
Agile working methods are set to remain our reality for the foreseeable future, leaving many organisations and their teams working in different locations and to different set hours on an ongoing basis. It's likely that one of the consequences of these shifts to our established working practices might be that it is more difficult to meet your recruitment consultant in person, but you should still work together closely to formulate a hiring strategy and ensure all your recruitment needs for a new world of work are met.
Download our guide to find out:
Practical tips for staying in touch with your recruitment consultant
The information you will need to provide to ensure your hiring needs are met
How your recruiter can support you once a candidate is placed
Why it's important to explore the different ways you can collaborate
content_multi_transition_toolkit_RHmodule
Helping you manage the new era of work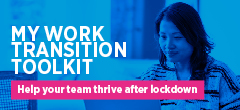 As the way we work changes at a rapid pace, our new online training toolkit will help your workforce become more agile and adaptive.