content_multi_securingpipelinetalent_DAC_MainRegion
YOUR GUIDE TO SECURING YOUR TALENT PIPELINE


---
While the impacts of the Covid-19 pandemic are being felt across the world of work, it's been widely reported that junior professionals are more likely to have been significantly affected, posing a risk to their financial prospects, career progression and wellbeing. In turn, this has impacted employers' access to a new pipeline of talent – reducing or stopping the hiring of entry level professionals altogether may pose a threat to our working future, creating skills gaps and seniority disparities.
Our guide provides context around the ongoing impact that these events are having on professionals and organisations alike, and provides practical strategies employers can use to address the risks and ensure their talent pipeline is secured.
Download your guide to find out:
How junior professionals are being affected by the Covid-19 pandemic and ensuing economic uncertainty
The impact that a reduced pipeline of junior professionals could have on employers and the risk it poses to industry progression and productivity
Immediate, practical steps you can take to mitigate these risks and secure your talent pipeline
content_multi_transition_toolkit_RHmodule
Recruiting in the New Era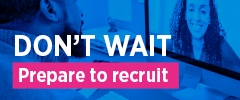 Sign your team up for Recruiting in the New Era, our free training package which will help prepare your hiring managers to adapt to hiring in a new world.
Find out more
content_multi_find_out_more_RHmodule
Find out more
Salary guide
Benchmark salaries by using our comprehensive digital salary guide.
---
Career advice
From CV tips to interview advice, our career advice will assist in your job search.
---
Search for jobs
Find your next career move with our jobs search engine.
---
Recruiting now?
Search through hundreds of candidates to find your next employee or employees.
---
View our blogs
Take a look at our blog section for further insight and advice.