content_DT_main_region_tech_startup19_MainRegion
Hays Tech Start-Up Report 2019


Add your voice to our survey
Getting your hiring strategy right is key for any organisation, but it is especially critical at a start-up, where every new employee may need to be a one-person team or help establish the culture that will help you grow and succeed. We want to find out how recruitment challenges are being addressed by your start-up or scale-up.
Win a recruitment consulting package
Take our survey and enter for a chance to win an exclusive recruitment consulting package for start-ups and the opportunity for your organisation to feature in our report, which will enable you to extend your runway. The package includes:
Your own employer branded recruitment microsite
Your vacancies advertised on exclusive talent communities
Your own employer branded video ad, social graphics and email campaign
Help shape research for the start-up community
Your views will be vital to shaping the Hays Tech Start-Up Report 2019, to be published later in the year. Our report will provide valuable insight into how start-ups, at various phases of maturity, need to evolve their recruitment processes and talent management strategy.
Be a part of creating a more empowered, supported start-up community.
content_DT_empact_Ventures_RHModule
Empact Ventures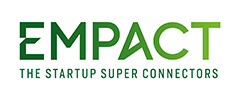 Empact Ventures are global super connectors who co-design unique tech startup initiatives, scout for world class innovation for larger organisations and funders, while supporting startups / scale-ups to grow by opening the right doors at the right time as their super connector.