content_multi_guide_embrace-change-successfully_MainRegion
YOUR GUIDE TO EMBRACING CHANGE, QUICKLY AND SUCCESSFULLY

---
The Covid-19 pandemic has served to highlight a key skillset which we all need to continually develop and nurture in order to operate successfully in our role. Change agility, the ability to quickly and successfully embrace and adopt change, will undoubtedly be a key skillset that all employers look for as a core capability in the workforce of the future.
Download the guide to find out:
How to challenge your interpretation of a change and channel it in a positive direction
Ways to break down the change and establish how it will affect your day-to-day
How to reframe the challenge that change presents as an opportunity
Methods for adopting the change into your everyday routine
content_multi_transition_toolkit_RHmodule
Helping you manage the new era of work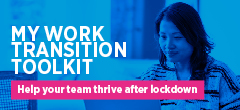 As the way we work changes at a rapid pace, our new online training toolkit will help your workforce become more agile and adaptive.

content_multi_wellbeing_when_working_from_home_RHmodule
7 ways to look after your wellbeing when working from home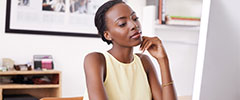 How can you create healthy boundaries between your work and personal lives, stay mentally and physically healthy whilst still being a productive and effective worker?